Comics / Comic Reviews / More Comics
Shrapnel: Hubris #1 (of 3)
By Andy Frisk
May 2, 2010 - 22:18
It's roughly 2250 AD and the colonized solar system has been at war for approximately 5 years. Advancements in technology and biotechnology have made it possible for humans to live beyond Earth and spread throughout the planets of the solar system. These advancements have also allowed for the rise of a new kind of human, derogatorily referred to as Genotypes or Splicers. They're genetically advanced men and women who's rich and powerful parents were able to selectively pick and choose their genetic traits, making them advanced in many ways over regular "natural born" humans. These natural born humans, derogatorily referred to as Helots, for the most part aren't privy to the lives lived by those in genetically gifted power. Not all Helots are incapable of rising above their lot in life though, and not all Splicers are oppressive fascists. When the Venusian Colony refused to bow to the oppressive government of The Solar Alliance, a former Helot Space Marine and war hero leads the rebels of Venus to victory. It is a precarious one though, and Captain Vijaya "Sam" Narayan hasn't won the war for her Venusian fellows…yet.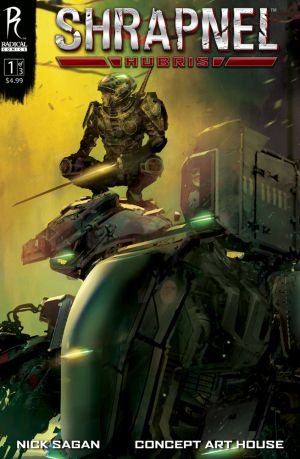 The sequel to Shrapnel: Aristeia Rising continues the high quality storytelling and artwork that made Aristeia Rising such a compelling and engrossing read. Picking up shortly after the events of Aristeia Rising, Shrapnel: Hubris continues the story of Narayan as she plots a risky gamble of a move that is so top secret that the reader isn't even privy to what her mission entails. We're forced to follow Narayan nearly as blindly as her troops, which now consists of Martian Splicers and Venusian Helots who are united in their desire for freedom and self-autonomy. Writers Sagan and Minnis manage to craft a continuation of the intelligently plotted and character driven Aristeia Rising that looks to expand not only on the setting and playing field of it protagonists to colonies beyond Venus, but its intelligent commentary on relevant real world issues in a new and fresh way as well.
For all of its futuristic settings, Shrapnel: Hubris is the simple continuation of what has proven, at least thus far, to be a character driven drama which examines the inequalities, prejudices, and moral and personal ambiguities and hardships that all men and women face. Herein lays the strength of Sagan and Minnis' storytelling ability. Narayan, as a Helot, has to face down and deal with the genetic and class disparity (and in her case, warfare) that makes her a controversial figure on both "sides" of the class war, thusly affecting her notions of self identity. She is a Helot in a Splicers world, but represents many things to many different people. She's aligned herself with the Helots and their Splicer sympathizers in a mission of liberty and self-autonomy, but must also refrain from falling victim to the hubris that being a victorious military leader and hero might lead to.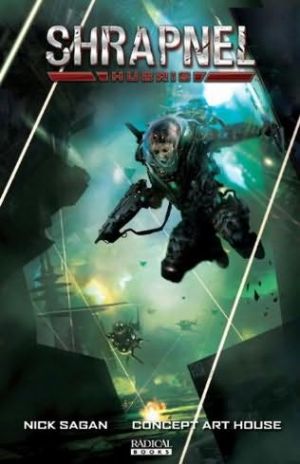 Rarely has there been a sci-fi epic like Shrapnel that has showcased a strong but realistic female protagonist, albeit with the exception of Aliens and a few select others. Captain Vijaya "Sam" Narayan is quite possibly the new standard for female sci-fi protagonists in sequential art. She has the same self doubts and past regrets that most of us have, which makes her relatable to as a character. She also has her own personal strengths and weaknesses (she received "therapy" from a holographic recreation of her deceased little sister) that round her out as a believable person as well. She's more than just a compelling protagonist though. Her ethnic background as an Indian serves to remind and create an allegorical link to the conflict between Helot and Splicer. Helots are very much like the untouchables of the Indian caste system. They perform the jobs the genetically selected won't, and are looked down upon as being lesser for it. Human nature overcomes human manipulation though, and even though Helots aren't genetically tampered with, they still naturally give birth to brilliant tacticians and soldiers like Narayan. With Splicers joining the fight in Hubris, the barrier between Helot and Splicer breaks down some with the overwhelming human desire for self-autonomy leveling the field.

Shrapnel: Hubris also continues the tradition of high quality art that made Aristeia Rising so eye catching. The artists of Concept Art House visually please Hubris' readers with a dark and dimly lit, realistic, and industrial sci-fi tinged environment. Everything about the artwork of Hubris screams well oiled realism, from Narayan's dream sequence's environment to the depths of outer space and the ships of this future world which traverse it. The overall visual environment is highly reminiscent of the settings of such visionary sci-fi classic films such as the aforementioned Aliens, Sunshine, and Event Horizon. In simple terms, Concept Art House's art is simply great.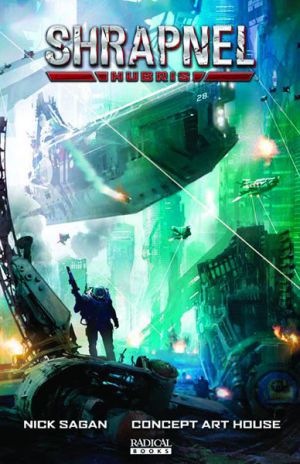 With Shrapnel: Aristeia Rising reportedly getting the big screen treatment, with Len Wiseman (Underworld, Live Free of Die Hard) at the helm, we'll have plenty to look forward to via a sequel with Shrapnel: Hubris. Even if the films never get made, Shrapnel will remain one of the best sci-fi comics ever created, and the story isn't even half over yet.

Rating: 9 /10
Last Updated: May 19, 2020 - 12:25