Comics / Comic Reviews / More Comics
Shrapnel: Hubris #2
By Leroy Douresseaux
September 27, 2010 - 09:47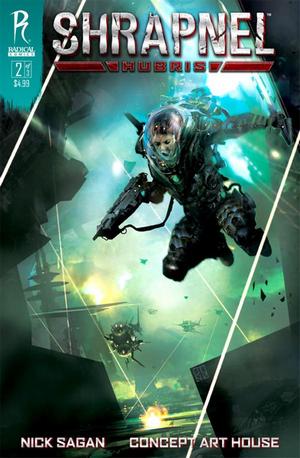 Shrapnel Hubris #2 cover image
Shrapnel: Hubris is the sequel to Radical Comics' miniseries, Shrapnel: Aristeia Rising, which depicted an insurrection that began on Venus against an oppressive government known as the Solar Alliance. In Shrapnel: Hubris, the planetary revolution moves across the solar system, led by Vijaya "Sam" Narayan, ex-marine and former war hero, with her former commanding officer, Colonel Arden Rossi, at her side.
As Shrapnel: Hubris #2 opens, the two remaining Crew Escape Vehicles led by Sam reach Earth's moon, the prosperous colony of Luna. They form a partnership with Johnny Yuan to strike at heart of the Solar Alliance's energy supply. Will Sam's activities earn her a high price on her head?
Shrapnel: Hubris is crackling military science fiction with a sharp sense of humor, and while it isn't great, the series grows more intriguing with each scene. The painted art by Concept Art House is sometimes so dark that it is hard to read the graphic narrative, but the art also gives this story of rebellion, both surreptitious and overt, a science fiction Film-Noir mood reminiscent of the film, Blade Runner.
B+
Last Updated: September 6, 2021 - 08:15