Comics / Comic Reviews / More Comics
Shrapnel: Hubris #3
By Leroy Douresseaux
November 2, 2010 - 14:24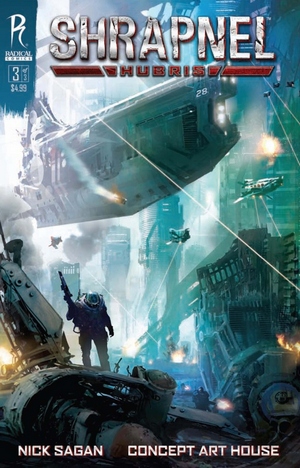 Shrapnel: Hubris #3 cover image
Shrapnel: Hubris is the sequel to Radical Comics' miniseries, Shrapnel: Aristeia Rising. Hubris is a three-issue miniseries that depicts an insurrection against an oppressive government known as the Solar Alliance. The planetary revolution moves across the solar system, led by Vijaya "Sam" Narayan, ex-marine and former war hero, with her former commanding officer, Colonel Arden Rossi, at her side.
Sam has returned to the planet of her birth, Mars, to raise an army and spread rebellion. With Rossi, Sam initiated a successful plan that has put a stranglehold on the System's energy supply. As Shrapnel: Hubris #3 opens, the Alliance begins to strike back. They give all their support to Colonel Bellgrave, a man with a burning hatred for Sam. Meanwhile, Sam gathers new allies, some who are disturbed that she is making herself the symbol and spiritual leader of possibly a new holy war.
THE LOWDOWN: While it is certainly crackling good military science fiction, Shrapnel: Hubris, is more than just armed forces shooting each other. There is certainly plenty of science fiction – from space ships to alien world locales – and sci-fi action in the form of futuristic ships and weapons delivering the firepower. However, Hubris takes a pointed look some at the ideas and causes of war and armed rebellion. The writers have taken more than a page or two from our own world. Hubris alludes to the Global War on Terror, imperialism, religious wars, sectarianism, and resource wars, among others.
The story has a way of engaging the reader's mind with relevant topics, which keeps the reader off-guard for the sudden impact of the action, and the action scenes do feel sudden and violent. Shrapnel: Hubris got better with each issue – more exciting and more intense. It is as ambitious any military science fiction novel or film.
POSSIBLE AUDIENCE: Fans yearning for military science fiction in a comic book format have it in Shrapnel: Hubris.
A-
Last Updated: September 6, 2021 - 08:15