Comics / Comic Reviews / Marvel Comics
Secret Invasion #8
By Hervé St-Louis
December 3, 2008 - 20:53
The Queen Bee is dead, long live the queen. This issue, Janet van Dyne, the glamorous founding Avengers and sometimes sidekick, and wife to Dr. Pym, also known as Yellow Jacket, dies. The Skrulls had implanted within her a dangerous disease that they could activate at their behest, should their invasion of planet Earth fail. And fail it did. The coalition of super heroes got the upper hand and defeated the Skrulls' remnants while putting everything back in place. Now, it's the villains' time to shine.

The only thing I liked about Secret Invasion was the setup. However, the entire mini-series was one bad comic book. It had no story, only fights, and numerous accounts of racisms. If the Skrulls were an actual human race, this racism would have been clearer for most readers. Substitute the Skrulls with Muslims or Chinese and the racism will jump at you.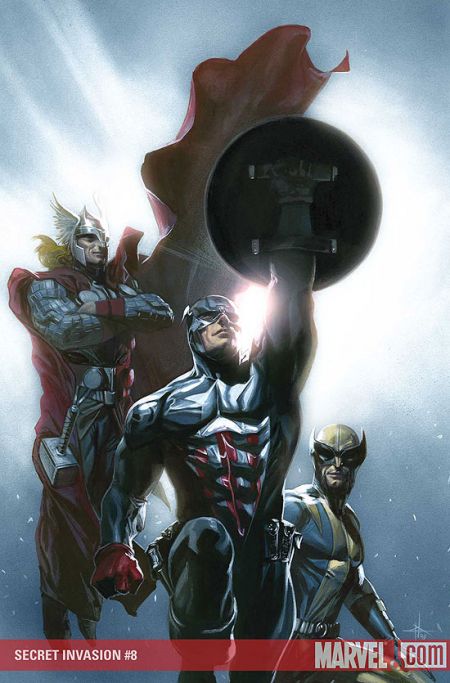 Moreover, you have superheroes killing sentient life every pages. I remember in one crossover series from Marvel Comics that influenced the
Secret Invasion
,
Operation Galactic Storm
that Captain America nearly broke up the Avengers for killing the sentient computer program that ruled the Kree, the old adversary of the Skrulls. At the time, Captain American had solidly scolded all the Avengers that had participated in the execution. It was clear, in these days, that Marvel Comics and its main heroes stood for something.
In
Secret Invasion
, the super heroes don't stand for anything. You have nerds like Mr. Fantastic choking Skrulls to death. You've got former happy go lucky and Captain America groupie like Hawkeye dreaming about how many Skrulls they can kill. Even Spider-Man kills, albeit off screen. It used to be that only a few Marvel Comics characters, like the Punisher and Wolverine were ever allowed to cross that line. Nowadays, with the current regime in charge of Marvel Comics, killing is a common activity enjoyed and practiced by all of its superheroes.
In these types of events, a major character must always die; it seems, to drive home the fact that "this is serious business." This time,
the Wasp
died. It's ironic that Wasp, the character that finally came into her own during the first major confrontation of the Avengers with the Skrulls, the famous
Kree-Skrull War
that was the inspiration for both
Operation Galactic Storm
and the
Secret Invasion
, had to end ungraciously.
In the
Kree-Skrull War
, the Wasp finally proved that after years of acting like a debutante in the midst of the Avengers, that she could lead them to victory and that she had something to contribute, no matter what her powers and size were. It is doubly ironic, that in its quest to make her a more formidable character, by giving her growth powers of a giant, that this is what was proved to be the demise of the Wasp. After all these years of being thought of as a weakling and annoying pest, her new formidable powers were not enough to save her and actually poisoned her.
Most comic book readers will not shed a tear for the Wasp. They don't care about her and she probably has a limited fan club. Nevertheless, she was a unique character, the likes of which we lack in comic books. The Wasp, started as a damsel in distress saved by Ant-Man, what Dr. Pym called himself in these days. Soon, she was given powers and joined her boyfriend in his superhero adventures. By convenience, more than actual respect, she was the token woman of the Avengers when they were founded, but never the focus or the highlight of the team. In the relationship that she had with Pym, she was the stable and strong part. She was rich, smart and in control of her destiny. The one thing that the Wasp was known for was her uncanny ability to have a different superhero costume almost every issue she starred in.
But such gimmicks are no longer fashionable or useful to a comic book publisher that is increasingly becoming a manager of intellectual property. From 2004 to now, the Wasp has had one comic book costume, mainly based on the
action figure
that was made about her. Jim Shooter, the Marvel Comic's editor in chief that was responsible for allowing the Wasp to come out of her cocoon, once said that Iron Man action comic books from the early 1980s had to draw a nose bump on the character's facemask, because an action figure sold at the time had one. It was, in the pre-convergent world, an attempt to make the comic book match the more lucrative action figure it was helping to sell. The Wasp, that unique character, obviously did not fit in the new mandate by Marvel Comics.
An
Ant-Man
movie is on the way. Surely, a girlfriend with powers similar to the main character is a complicated thing to explain to explain to the public. It's considerably easier if the Wasp in the comic book is out of the picture, so no questions have to be explained about her in an eventual movie. I would call it the reduction of women into token damsel in distress. At least, the Wasp dies as a damsel in distress and did not even get to say a word or express herself. Instead, villains paraphrased her last moments.
The Wasp was not a very powerful character, yet she was included in the latest version of the
Avengers
comic book. It was stated from the beginning that in this new Avengers' team, only world shakers were allowed. The Wasp was an anachronism in this day and age where powers is the sole measure of character.
The Wasp was a woman who although her husband, Dr. Pym, had battered her, had fought back and proved herself better than him. But in superhero comic books, strong female characters are not interesting or worth keeping, unless they have special cleavage. Oh, the Wasp was not ugly at all and she had the required big breasts and large derrière. However, her sex appeal was never her main quality. She was petite and a brunette with short hair. Maybe as part of her many costume changes, she should have dyed her hair blond, like Black Canary, let it grow longer and put on a more revealing costume.
There were other plot problems with the Secret Invasion, besides the badly written story and contrived dialogues. If there was a Skrull pretending to be Captain America, then how come the original had not been taken away by the Skrulls when they cloned him and his abilities? Is that the loophole that will allow the Captain to comeback, or am I giving Marvel Comics too much credit? And what about Mockingbird, who clearly died and did not revert to a Skrull shape when she died – the Skrulls turn green when they die?
Who knows? What this tells me is that it's time for me to stop paying attention to many comic books, in particular those from Marvel Comics. As
The Comic Book Bin
, is no longer in their
media list
, it would be a reasonable thing for us to do anyway.
I'd like to invite my fellow comic book readers, in these dire times to start exploring other comic books by people not affiliated with Marvel Comics. There is much better stuff out there, that you and I have not paid attention to, because we are so worried and concerned about the latest useless plot development from comic book characters whose only function is to exist long enough to sell us a T-shirt, a film, a video game or an action figure. The moment they do not serve these functions, they are expendable. But just to preserve its trademark on the Wasp, expect Ant-Man II's daughter to soon adopt the name The Wasp in honour to her recently deceased surrogate aunt.
Okay, artwork. The only thing I liked in this issue was the disjointed jaw of the Queen of the Skrulls, who, by the way, is the second queen bee to die this issue. I'm not exactly sure how the Wasp died, as Yu is not a good storyteller. All I saw was her mouth open so wide, she could swallow the state of California and some purple lines like a tornado around her. Apparently, Thor killed her. I can't quite tell, Yu is more interested in drawing posters than actual comic book panels that reveal a story.
Of course, I can't give this comic book a decent grade. But, I must ask all comic book readers hooked on Marvel Comics, to use the little disposable money they have left to spend it on comic books that do not degrade their intelligence like
Secret Invasion
and to encourage promising creators that have something to challenge them and for whom creating comic books is not about keeping the brand alive long enough so they can sign a movie deal. Please support real comic books and people that actually care about putting out a good product.
Rating: 2 /10
Last Updated: January 24, 2022 - 11:00