Comics / Comic Reviews / Marvel Comics
Secret Invasion #7
By Hervé St-Louis
November 13, 2008 - 20:27
Spider-man makes a joke. He says that when as long as the Watcher does not show up at the site of the fight, that the heroes' engagement against the Skrulls is not of major significance. Just for a laugh, the Watcher does show up to record the event in his history. However, the fight goes on and we'll finally learn what the Skrull masquerading as Doctor Pym gave to the Avenger founder, the Wasp. As the fight with the Skrulls seemed to end, the Wasp is transformed into something that may threaten the heroes. But what is it exactly?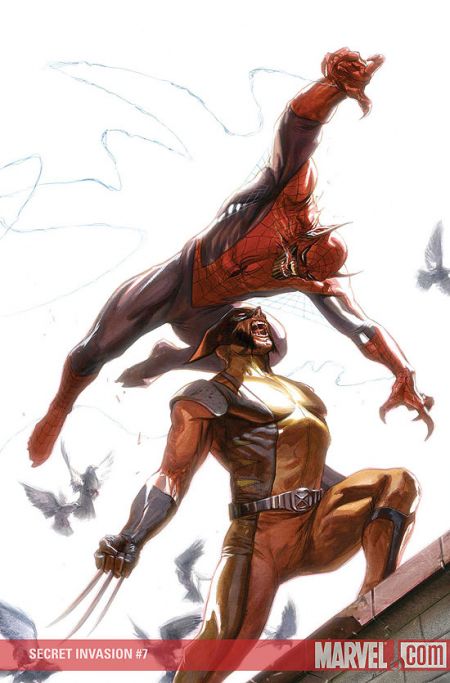 It's another big fight issue with Skrulls being massacred on every page. There's not much too say about this issue. It's mostly the type of filler, that would have filled about 5 pages two decades ago in comic books. This entire series could have been told in about two issues in old Avengers' stories. One of the main problems with Secret Invasion is how it massacres the classic Avengers' storyline, the Kree-Skrull war. This story is but an afterthought based on that classic story, but without the depth. Something tells me that the last issue will involve the Kree coming up and messing everything in the following issue. I have a feeling that something about Jessica Jones' baby will be revealed next issue. There is after all, the old plot point about her child with Cage having glowing eyes, in older Avengers' stories.
The fights in this issue are not well choreographed. They are like a collection of posters patched together with speech bubbles. It's hard to follow the action. This is an entire mess and it will be interesting to see if the extra large final issue will be able to salvage this series.
Rating: 4 /10
Last Updated: January 24, 2022 - 11:00