Secret Invasion Brings Deadpool Back
By The Editor
September 1, 2008 - 06:38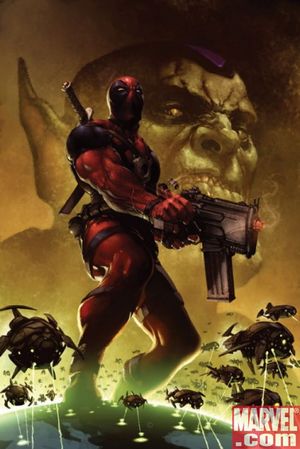 Deadpool #1 cover
Deadpool Is Back…And Ready To Kill To Some Skrulls!
The Merc with a Mouth is back and ready to kick butt in his brand new on-going series! Join the Crimson Nutcase, DEADPOOL, for action and wisecracks in Deadpool #1! As the Skrulls continue their attack on Earth, the world is being torn upside down and only one person can save us in this new ongoing series, spinning out of Secret Invasion! He's Deadpool and he's crazier and deadlier than ever before! Don't miss the explosive debut of this new series by writer Daniel Way (Wolverine Origins, Ghost Rider, Bullseye: Greatest Hits) and fan-favorite artist Paco Medina (New Warriors, New X-Men)! Plus, an eye popping, variant cover, featuring artwork from the legendary Rob Liefeld!
After Daniel Way's Deadpool arc in Wolverine: Origins, the fans and critics agree that he was born to write this series!
"Deadpool's characterization is really fascinating. Daniel Way explores our favorite Merc-with-a-Mouth's delusions of grandeur and self-image… This is wonderful character exploration." – Steven M. Bari of ComicBulletin.com
"I generally like what Daniel Way is doing with this book….It's good stuff, and it makes me crave the ongoing Deadpool book all the more." – Jesse Schedeen of IGN.com
Marvel urges retailers to check their orders on Secret Invasion and all tie-in issues, as they continue to sell out quickly at Diamond!
Deadpool gets swept up the chaos of Secret Invasion! Will he step up to the plate and save the human race? His madness is his method and you're not going to want to miss it in Deadpool #1!

DEADPOOL #1 (JUL082316)
DEADPOOL #1 VARIANT (JUL082317)
Written by DANIEL WAY
Penciled by PACO MEDINA
Cover by CLAYTON CRAIN
Variant Cover by ROB LIEFELD
Parental Advisory …$3.99
FOC—8/14/08, On-Sale—9/3/08

To find a comic shop near you, call 1-888-comicbook
Last Updated: September 6, 2021 - 08:15