Comics / Comic Reviews / More Comics
Saga #1
By Zak Edwards
March 14, 2012 - 22:03
And with that, I have had a bit of my faith in comics restored. For the past couple of months, I have been a little less than impressed by the books I've been reading every week. All the space that has opened up in comics, with the DC Reboot and plenty of action happening everywhere, I was expecting something new and it simply wasn't there. Everything, even the things I get truly excited for every month, either hasn't been grabbing me or is too derivative, too much like the things I've bought before.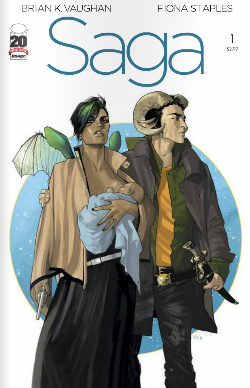 But then comes Brian K Vaughan's triumphant return to the world of comics after far too long of a hiatus (I actually think it's been roughly a year and a half since Ex Machina hit the shelves for the final time, but that in itself is too long). Sure, Saga looks and sounds familiar: sci-fi, war, forbidden lovers from each side, people with horns, etc., but everything comes together for an epic start to an epic series. And considering I've never read a Brian K. Vaughan book in singles before, I'm looking forward to his incredible cliffhangers.
With so many elements already at play, it's hard to nail down exactly what Saga is. Both fantasy, science fiction, and the story of two people trying to make a life for their offspring in the worst of circumstances, Saga is weaving together another tale that Vaughan likes to tell. Ex Machina was technically a superhero book, but it really wasn't; same with Y: The Last Man, being not quite a post-apocalyptic thriller that was actually quite hopeful in a very organic way. Saga is a bit Shakespearean (and I'm not simply referring to Romeo and Juliet), a bit of a few things actually, but the thematics are being firmly established. To help along the way is Vaughan's wonderfully quippy dialogue that helps this double-sized introductory book blaze along at a great pace. The characters are instantly likable and rounded, each with a unique voice. Sure, they sound like Vaughan's characters in the past (a white male and black female who sound a lot like Yorrick and 355 does seem a little coincidental), but in a way I feel isn't too familiar. At this point in the series, being only a single issue in, it's great to simply see something to be excited about. I'm excited to see how this series plays out over the next few years and, more importantly, how they read as a cohesive whole at the end.
Fiona Staples' art is at once a little rough around the edges while showing a great deal of consideration. Her character designs, as well as the designs for everything according to Vaughan, all seem to naturally fit together despite their obviously differing influences. The science fiction/ fantasy contradiction gets fairly heavy, but the world(s) she's created allows these things to co-exist without much seeming out of place. The various aliens, species showing up to populate the backgrounds, are all simply interesting to look at, like the rest of the book. She can truly handle anything, from "grease monkeys" to what robots are thinking when having sex, and I look forward to her art almost as much as Vaughan's writing. His choice in artists has always been great (I can't for the life of me think of a poorly illustrated Vaughan book), and I trust him completely.
Grade: A Just what the industry needed!
Last Updated: May 19, 2020 - 12:25