Excel Saga: Volume 24 manga review
By Leroy Douresseaux
December 11, 2012 - 11:38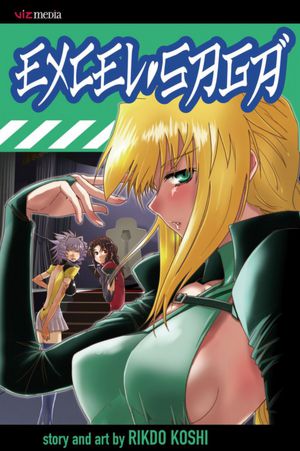 Excel Saga Volume 24 cover image is courtesy of barnesandnoble.com.
Rated "T+" for "Older Teen"
In a particular apartment building in the city of Fukuoba, there exists a peculiar situation. Inside, two groups of neighbors lead secret lives. Lord Il Palazzo and his minions think they are trying to take over Fukuoba; this is Across. The other group is the Department of City Security (DCC), and Dr. Kabapu (the Professor or the Mayor) and his employees think that they are trying to defend the city. They are acting as if they are anime characters, but this is the manga known as Excel Saga.
As Excel Saga, Vol. 24 begins, Excel is loving her time in the artificial body of Isshiki, and while she may not survive for long in it, she's not leaving. It allows her to be the loyal servant to Il Palazzo she always wanted to be, and she even has a surprise meeting with him. Will that lead to an attack on the DCC?
Norikuni Iwata, the human-turned-cyborg, is in love with Chihaya Asasugi. After seeing her in the city, he decides to follow her while thinking of ways to break the ice and speak to her. So why does he feel like he stalking Asasugi? Plus, duty calls and that puts his suit into action. Also, Iwata and Umi talk heart-to-heart, as the Professor readies a big announcement – the next mission.
THE LOWDOWN: As I become a little more familiar with the Excel Saga manga – with each volume read – I find something to like. The series, which seems to be a spoof of anime the way Hayate the Combat Butler is a spoof of anime and manga content and culture, is a comedy of errors and misunderstandings. Here and there, however, creator Rikdo Koshi finds a way to show the characters intimately engaged with one another – whether romance and friendship. I'm not sure of which I want more – comedy or relationship? I'll keep reading.
POSSIBLE AUDIENCE: Fans of anime spoofs will like Excel Saga.
Rating: B- /10
Last Updated: August 31, 2023 - 08:12