Excel Saga: Volume 23
By Leroy Douresseaux
April 20, 2012 - 21:18
Rated "T+" for "Older Teen"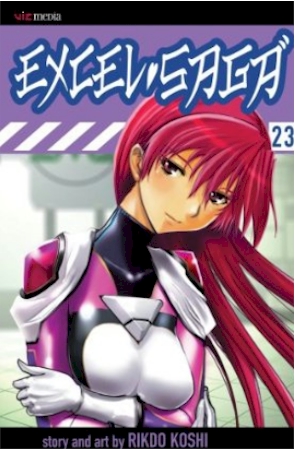 Excel Saga Volume 23 cover image is courtesy of Anime Castle Books.
There is a particular apartment building in the city of
Fukuoba
, where there is a peculiar situation. Inside, two groups of neighbors lead secret lives. One group is
Across
, and its members think they are trying to take over Fukuoba. The other group is the
Department of City Security
, and its employees think that they are trying to defend the city. They are acting as if they are anime characters, but this is the manga known as Excel Saga.
As
Excel Saga

, Vol. 23
begins,
Toru Watanabe
is thinking about some bedroom time with his girlfriend,
Chihaya
. However, Chihaya is in the clutches of
Isshiki
, who is herself the subject of a battle brewing between the Department of City Security and Across. Watanabe and Isshiki have donned battle suits and are ready to battle, but Isshiki proves hard to beat.
Dr. Miwa Shiouji
has a plan to help the employees of DCS capture Isshiki.
Meanwhile, the DCS gals and guys try to keep their boss and DCS founder,
Dr. Kabapu
, slightly in the dark about their current mission. Also,
Elgala
tries to get closer to
Lord Il Palazzo
, the leader of Across.
THE LOWDOWN:
I first read the
Excel Saga
manga a year ago when I received a copy for review from VIZ Media. I even admitted in my review of that particular volume, Vol. 22, that it was an ordeal for me to figure out what was happening in the series. I recently received another copy for review, Vol. 23, and I have a slightly better idea about the events of the narrative – not good, but better (which is better than nothing).
The series seems to be a spoof of anime the way
Hayate the Combat Butler
is a spoof of anime and manga content and culture. I was also initially put off by Hayate, but I grew to like the spry and witty series.
Excel Saga
is obtuse. Its basic premise is good, and while the action and battle scenes are interesting, overall, the entire narrative is too talky. I admit that this is an acquired taste, one I don't know that I can really acquire.
POSSIBLE AUDIENCE:
Fans of manga that parody anime may like
Excel Saga
.
C
Last Updated: February 5, 2023 - 09:06