Comics / Comic Reviews / More Comics
Review: The Jewish Comix Anthology: Volume 1

By Avi Weinryb
March 3, 2015 - 21:37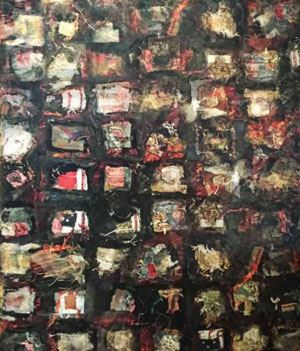 There is nothing more Jewish than asking questions. It's a tradition that goes back thousands of years. I'm not just talking about the question, "Do I get the smoked turkey on rye or focaccia?" (The correct answer is rye) I'm also thinking of when the Bible's Abraham has the chutzpah to ask the Almighty, "Shall the Judge of all the earth not do justice?" Whichever way you slice it, the answers to questions have the potential for profound consequences. In the introduction of the Jewish Comix Anthology, editor Steven Bergson reveals that he once asked himself "Why did there seem to be such a small number of comic adaptations of Jewish stories?" After all, comics have been borrowing from Jewish stories for over half-a-century, probably even before baby Moses – excuse me, Kal-El - was sent to safety in a small vessel, only to later become a hero. The Jewish Comix Anthology does not seek to answer the question, but instead strives to address its underlying concern. This is a book of stories; some universal, with a little Jewish flavour, while others are so Jewish, you can practically hear the artist's mother
kvelling
from the great beyond. Or maybe she's in Brooklyn.
There is a rich history of Jewish storytelling in mainstream comics, but these pieces are often hidden away, waiting to be discovered. Alternative publications have provided homes to many independently produced Jewish comic tales, while major publishers such as DC Comics, Marvel Comics and Dark Horse Comics have made room for little nuggets as backup stories within some of their regular titles. Examples of each are reproduced in this volume, in addition to newly created compositions from up-and-coming artists and writers. The result is an enjoyable medley of short pieces from a diverse list of talent. Promising new storytellers, some of them making their professional debut, join established legends such as Will Eisner, Joe Kubert, Art Spiegelman, Robert Crumb and Harvey Pekar. One need not be Jewish to enjoy this volume's varied stories and artwork.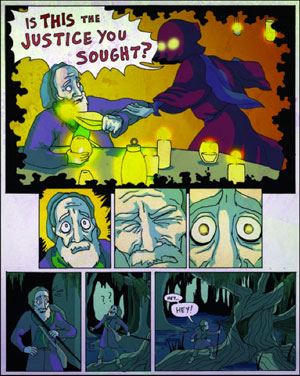 Lamps of Life" by Aliza Donath
There are no capes and tights to be found here, but the prototypical Jewish superhero, the Golem, generously appears in six stories within the collection. This includes a notable appearance from Marvel Comics' Strange Tales #177, illustrated by Jonah Hex co-creator Tony DeZuniga. The fun one-pager "Workin' Girl Golem" by Joe Infurnari is an example of the leitmotif of female empowerment seen throughout this volume; there are several stories in which strong female characters take a stand against patriarchal figures and shape their own respective destinies. Katherine Piro's exquisitely illustrated "The Chaste Maid" and Adam Gorham's exciting tale "Yaish & The Protector" are two additional examples.
Reprints from various publications offer rare or uncommonly seen stories. In other cases, new voices are given their first chance to shine. Joshua Edelglass' "The Perfect Wife" is a departure for this talented illustrator, who until now has largely been known for movie parody web comics. His style is very reminiscent of that of Steve Rolston. In the story "Lamps of Life", skilled storyteller Aliza Donath reimagines a Jewish folktale – with powerfully devastating results. This writer-artist manages in her first professional print appearance to impress with a piece that is unsettling and impactful. Hopefully both of these contributors will return in a future volume.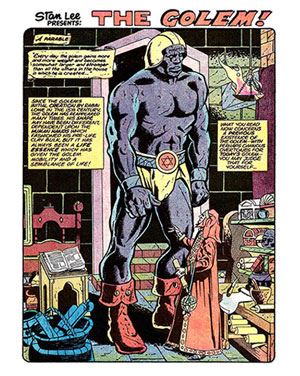 Golem" by Mike Friedrich & Tony DeZuniga
Overall, this collection contains many outstanding compositions, some of which prop up lesser works. There's a mix of full narratives, comic strips, and short vignettes. The art here is deliciously varied; every piece has much to offer. Digital art joins inked illustrations, photo collages, pastels and hints of watercolour. Unfortunately, not every story is a homerun; A rare few contain relatively weak writing; overly sentimental bits and tired clichés. It was also surprising to see that the Jewish Comix Anthology had not one Israeli story. Yes, some of the contributors here hold Israeli citizenship, but there was not one tale told from an Israeli perspective, taking advantage of the rich and growing comic culture that has taken root in the world's only Jewish state. It is my wish that Rutu Modan, Uri Fink, or some of their contemporaries will appear in a future collection.
Taken together, this is a strong, enjoyable work and deserves space on many a bookshelf. It fills a void, offering a platform for fun, insightful tales that would be otherwise hidden away from mainstream readers. If you are going to engage in the age-old Jewish tradition of asking questions, try this one: Why haven't I read this book yet?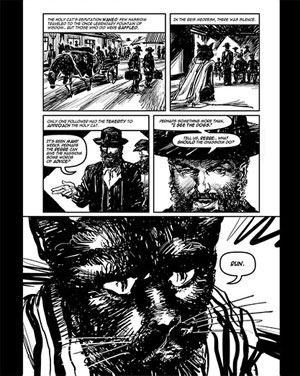 I See the Dogs" by Clifford Meth & Michael Netzer
An exhibition featuring several contributors to this book will be on view from March 1-8, 2015 in New York City. "JOMIX – Jewish Comics; Art & Derivation" is open Monday-Thursday from 10-5 by appointment. For more information,
click here
.
Avi Weinryb began contributing to ComicBookBin ten years ago as a writer and later as an editor. Follow him on Twitter -
@AviWeinryb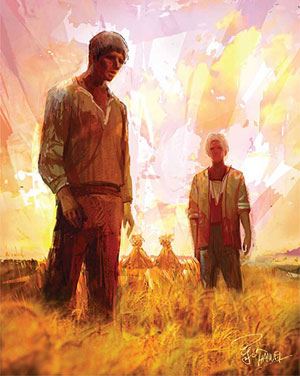 The Two Brothers" by Haiwei Hou
Rating: 9 /10
Last Updated: January 24, 2022 - 11:00