More Old Jewish Comedians by Drew Friedman
By Leroy Douresseaux
March 14, 2008 - 14:57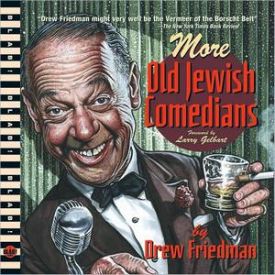 Joseph Klewan, better known as "Joe E. Lewis," is the cover subject.
MORE OLD JEWISH COMEDIANS
Cartoonist Drew Friedman gained fame for his caricatures of famous, infamous, obscure, and cult Hollywood and entertainment figures. Friedman's drawing style was like stippling, as he employed thousands of pen marks to simulate the look of a photograph. It was like photorealism and pointillism. His work has appeared in numerous magazines and periodicals, and Fantagraphics Books has collected much of his work in book form. Friedman had a recent hit with the 2006 tome, Old Jewish Comedians, which found Friedman applying his signature caricature/portrait approach to Jewish comedians.
More Old Jewish Comedians is the sequel to that popular collection of portraiture of (as Friedman writes in his introduction) "comedians, comediennes, comics, comic actors, clowns, and tummlers." Friedman, as he has done in recent years, paints his caricatures, instead of stippling them. The subjects of More Old Jewish Comedians include the famous, such as Woody Allen, Mel Brooks, Carl Reiner, and Joan Rivers, among others. There are the semi-famous, like Jerry Stiller, well known for his role in "Seinfeld" and for being actor/director Ben Stiller's father, as well as others like Joey Bishop, Eddie Cantor, and Zero Mostel. There is also a bevy of unknowns and somewhat-forgotten including Joe Besser, Herbie Faye, Molly Picon, and Soupy Sales.
Friedman's special touch is his ability to capture his portrait subjects somewhere between being actual human beings and the caricatures into which pop culture transforms them. This brilliant artist mixes the weather-beaten, liver-spotted visage, for all its wrinkles, rumples, moles, and folds of flesh, with the wattage of actual stardom. Big or small, these guys and girls entertained (and in some cases continue to entertain) untold numbers of people, and Friedman's paintings capture the magical glow behind the relentlessly plentiful signs of age.
More Old Jewish Comedians is a sensational art book because who can't love at least some of these faces, made electric and rich under Friedman's paints. Would we all be so lucky to grow as old and unattractive as them.
A-
Last Updated: May 19, 2020 - 12:25