Comics / Comic Reviews / DC Comics
Review: Superman #5 (2016)

By Andy Frisk
August 17, 2016 - 08:02
Superman #5 continues the story of The Eradicator's quest to cleanse Clark and Lois' son Jon of his human heritage as Clark forces the fight between the Super-Family and The Eradicator to the Moon. Just as The Eradicator appears to be on the cusp of victory, Superman gets help from an unlikely source, hopefully ensuring that this current glorious DC Comics' Rebirth of Superman isn't cut short...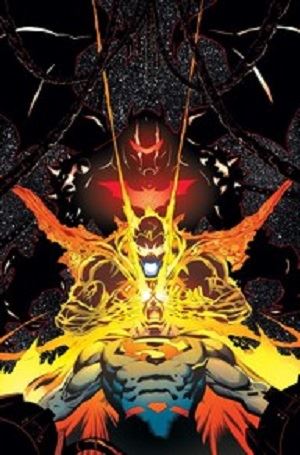 Tomasi and Gleason keep up the action heavy pace where plenty of stuff gets broken and many punches are landed, but the plot continues to creep along this issue. As short pauses in the action occur though, (like when Jon hides from The Eradicator during a very tense moment) Tomasi and Gleason manage to subtly reveall the seriousness of this story arc's theme which involves a smart condemnation of racism and ethnic cleansing. Tomasi and Gleason continue to demonstrate their storytelling smarts by taking The Eradicator (who has always been a metaphor for racism and ethnic cleansing) to a whole new level of metaphoric horror. Stories like this prove the point that Superman, as a character, is still one of the best storytelling vehicles around when surrounded with a solid and dynamic cast of supporting characters (as well as smart writers).
Doug Mahnke's artwork ramps up the horror of Gleason and Tomasi's Eradicator as effectively as Gleason and Tomasi's dialogue does in this issue. Mahnke's artwork has always had a bit of a chilling edge to it, especially his renderings of the eyes of madmen (see his brilliant artwork of about a decade ago on
The Sinestro Corps War
). Here though he takes his artwork to new heights as his Eradicator has no visible eyes for with Mahnke to work with. Fittingly it is The Eradicator's mouth that is the visual representation of his madness and horror. This is metaphorically fitting when considering the racist horrors that spew from said mouth.
Smart mainstream superhero comics are rarely this good...and intellectually artistic. Thank you DC Comics for bringing back
my Superman
with Rebirth, and telling morally relevant and inspiring stories with him in these turbulent political times.
Rating: 9 /10
Last Updated: July 2, 2020 - 16:53