Review: Sunset Overdrive

By Sean Booker
November 21, 2014 - 22:12
The high energy and no care attitude that Sunset Overdrive owns leads to a crazy and fun time. The game doesn't hold itself to any standard narrative reality and chooses to instead focus on just having as much fun as possible. This enjoyment does take a bit to get going as the game's learning curve can take a while to pass. Despite some lack luster mission design the game brings a fast paced and hectic feeling the whole way through that will easily hook and engage you.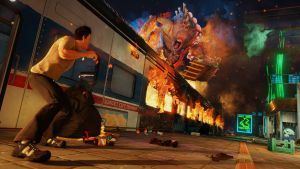 Sunset City has been turned into an apocalyptic wasteland filled with energy drink overdosed monsters. Your punk rocker protagonist, along with a group of people just looking to have fun in this chaos, must dash, bounce and grind your way around this playground of a world. Whether you're wall running forever, bouncing on the nearly limitless spring-like objects or sliding around on literally any horizontal line, you will find that you barely ever touch the ground and are constantly moving. It's the sense of speed and pacing that makes Sunset Overdrive so fun and fluid to play through.
These mechanics take time to get used to and this leads to a difficult learning curve from the beginning. The game makes note that the ground is the most dangerous place to be and, with the amount of damage enemies can deal out along with the huge number you will face, it is certainly true. You can't play this as a standard shooter since you cannot do enough damage fast enough by just standing still and walking around. From early on you need to keep your momentum up. This can be tricky since you need to juggle where your character is, what they are moving towards, and also how to properly shoot. It can get even more challenging when you start having to protect areas but fending off enemy waves. There is a lot to keep in mind from the get-go. It does get easier as you learn how to properly traverse and your weapons and character gets stronger but it definitely stumbles a bit out of the gate.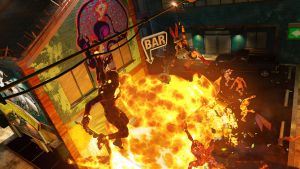 This is packaged together with a totally self aware narrative structure; Sunset Overdrive knows it's a video game and runs with that. These jokes are typically funny and allow for the pacing in the game to always stay up without having to actually make sense from a logic perspective. Fast travelling is done by drinking yourself until you pass out then showing up in a porta potty at your destination. Death will not matter since the characters know they can just respawn - to which they will poke fun at the hilarious respawning animations. Despite this, the story is able to remain intact and gives way for crazier and crazier moments to happen. The game's looseness can make things quite funny.
The missions can be quite hit or miss throughout the game. A good chunk of your objectives will be fetch quests; running to one end of the map in order to shoot some enemies and then returning. This happens frequently enough that the game jokes about it - but still leaves this annoyance relevant. Unfortunately a lot of the side missions also end up being longer versions of these. However, for every series of fetch quests you will be rewarded with a really great final mission or boss fight. These are often giant enemies or insane waves of monsters to fight through. The music always kicks into high gear here with the appropriate pop-punk or dubstep tracks to add to the chaos. The boss fights are quite varied and the game is aware that you will need to perform crazy stunts to win. Whether you're grinding along the back of a giant flying dragon or sending a monster robot dog at the enemy you are definitely going to enjoy some of your objectives.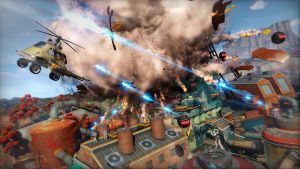 Sunset Overdrive's multiplayer, Chaos Squad, is decent enough but nothing groundbreaking. The online will be a series of co-operative challenges that you and up to seven additional players can take on. Unfortunately, these will be almost identical to some of the story missions you will encounter. The title is quite true here since the single player is already plenty chaotic before adding in all your teammates. The number of enemies and their strength scales with the number of players. Having eight people shooting off the silliest of weapons while jumping all over the place is ridiculous and a lot of fun.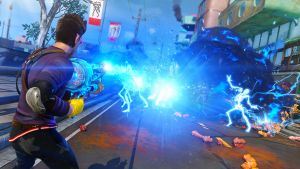 The laid back punk aesthetic really helps drive home how much fun and how pleasantly goofy Sunset Overdrive is. Despite some hurdles out of the gate and some lackluster mission design the game always ends up making best in the long run. It gets more fun as you get crazier and crazier weapons and traversal options. Not limiting itself to any strong sense of narrative structure allows the game to go to an appropriate degree of weird. This is a really fun game that creates a fast and fresh twist on the shooter genre.
Rating: 8 /10
Last Updated: January 24, 2022 - 11:00