Comics / Spotlight / Progressive Panels
Revenge of the Fables
By Andy Frisk
November 15, 2011 - 23:33
First it was Anne Rice's sexually ambiguous vampires. Then the moronically written Twilight series introduced us to a whole gang of sparkly vamps who were more melodramatic than a 14 year old girl on her first day of junior high. Finally, a gaggle of southern drawling vamps engaged in a civil rights battle against right wing Christian fundamentalists took over HBO. Just when it seemed that vampires were taking over the world, pop culturally speaking, hard core horror fans drug their beloved zombies to the fore with zombie reviving films (pun intended) such as 28 Days Later, and critically acclaimed comic book series like The Walking Dead that was turned into a critically acclaimed television series. Now, just as it seems that every day is Halloween, again pop culturally speaking, the real heavyweights of childhood horror and, more importantly, moral lesson are making a comeback. Actually though, the denizens of the Fairylands, Storybrook, Fabletown, or whatever the chosen residence is, in whichever chosen Fairy Tale based fiction you're into, have been around a little longer pop culturally than most of us are aware, even if it seems like they are just now rising to the top of the Halloween fixated pop cult landscape.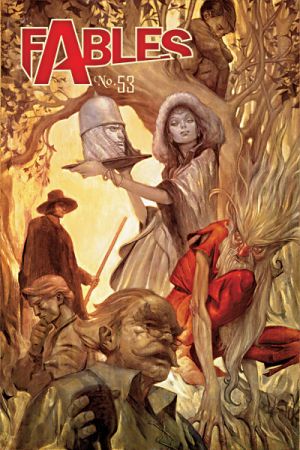 Who doesn't remember reading about, or being read to about, Red Riding Hood, Cinderella, Snow White, and the like when they were a kid? Often times these stories really didn't have much action in them, but the lessons of the tales were way more poignant than any of those listed above in my introduction (with maybe the exception of some of Rice's works). The only problem was, the characters and events of the stories weren't really all that cool, or hip, or bangin' or whatever term is applicable. Cinderella went to a ball and, since the shoe fit, ended up escaping her slave like conditions. Snow White fell victim to the poison apple, but got saved by Prince Charming. These stories seemed a little light, and didn't much hold the interest of a boy who was way more into G.I. Joe than Disney, even though the original versions of some of these fairy tales were pretty graphic and gross. The original Red Riding Hood tale involves the wolf disemboweling grandmother and cooking her intestines on the hearth fire, then feeding them to the unknowing Red Riding Hood when she arrives. Yeah, I guess fairy tales can be (insert sarcasm here) cool. Seriously though, I had barely even given a second thought to fairy tale stories as an adult until I came across Bill Willingham's
Fables
. Willingham's work is a brilliantly written comic book that ended up serving as the direct spiritual inspiration for the best written, acted, and produced fairy tale assault upon the pop cult of vamps and zombies: ABC's
Once Upon a Time
.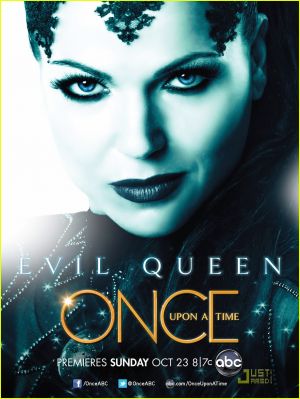 I don't remember evil queens being this hot...but I'll take it.
Without
Fables
though,
Once Upon a Time
wouldn't exist, literally. ABC almost developed Willingham's
Fables
into a show, but didn't. Then along comes
Once Upon a Time
, a show that is incredibly similar to
Fables
, but with some major differences in character placement, if not so much in plot, per se. The similarities between the two properties and the issue of the House of The Mouse, now the owner of The House of Ideas, passing on a Distinguished Competition's premise to develop their own incredibly similar property (wonder when the Marvel Comics' printed comic book tie in will be along…), is not for me to discuss or delve into here. Suffice to say,
Fables
set the table, and
Once Upon a Time
is turning them on the sparkling vamps and walking dead, and rightly so.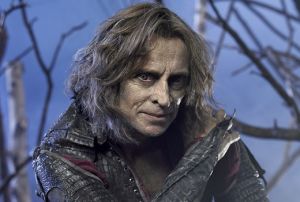 Who ever thought Rumplestilzkin would be so...cool.
While Willingham's
Fables
definitely has more action in it than
Once Upon a Time
, at least thus far, and
Once Upon a Time
is a little more appealing to the female audience,
Once Upon a Time
truly is a whole family affair type of show. I've enjoyed it thus far, even after completely believing I wouldn't. While NBC's attempt at Fairy Tale based pop cult war,
Grimm
appeals to me a little more, simply because it's much more of a cop show,
Once Upon a Time
is much more intelligent, again thus far, with its embracement of meta-fiction, out and out hopefulness, and complexity of plot and motivation. In this aspect, it is truly the spiritual child of Willingham's
Fables
. Strangely, works like
Fables
and
Once Upon a Time
feel fresh and new, even though the stories and the characters are essentially the same in motivation and characterization as their original incarnations. The modern world setting works wonders on these stories, I guess. What's most important though, is that these characters and their stories are universally representative of the human condition thematically. Zombies and vamps might be flashes in the pop cult pan, but fables are eternal.
Like music? So does Andy. Read his thoughts on it
here
.
Last Updated: May 19, 2020 - 12:25