Comics / Comic Reviews / DC Comics
Fables # 73: War & Pieces, Part One of Three
By Henry Chamberlain
June 12, 2008 - 19:26
With the
Fables
series pushing 75, all the
Eisner Awards
it's won, and its latest collection the hottest ticket at your local comic book shop, this is the perfect time to check out the current issue of what continues to be the flagship title of the mighty
Vertigo
armada.
As someone who has come to the
Fables
phenomenon late, I am so glad I've finally caught on. I do have at least a couple of issues from back in the day and it simply wasn't something I got into then. I loved the covers and I liked what was going on but wasn't hooked. Now, it's different. Something big has been going on for quite some time. Purists will say that there's been a lull but for me, I'm just happy to get up to speed. I've been doing that since
The Good Prince
arc, and I feel pretty caught up.
Fables
, issue 73, finds the Fabletown forces finally engaged in war with the Empire. It's quite an unconventional war. Due to Fabletown's exceptional evasive maneuvers and use of modern weapons, namely guns, the Empire is at a loss on how to respond. The Empire's ruler, an enormous blue monster with red eyes, is nothing more than a blundering figurehead that takes orders from the fabled puppeteer, Geppetto. The monster's best guess at knocking out the Fabletown airship: an all-out attack of dragons, except for one to save for later.
This is a war that features Baghdad, although this is the Fabletown version, the one in
The Arabian Nights
. The airship that dares to take on the Empire is called, "The Glory of Baghdad," and is run by a series of flying carpets pressed between the inner and outer hulls. The crew is a mix of Western and Arabian fables with the Arabian crew commanded by Sinbad and the Western crew commanded by Prince Charming. And the secret weapon: a home-made "bunker-buster" bomb with a guidance system made up of flying carpets.
Connected to other worlds through gateways and channels, Fabletown resides in a little world nesteld somewhere in mid-town Manhattan completely unknown to stock brokers, performance artists and all the rest of the natives. It is a world currently fighting for its life, under siege, in great tumult--but still finding the time to keep its troops, just another world away on an airship, well stocked in their favorite snack cakes.
Then the skies darken out on the war front. It's thousands of dragons! Will mere guns, even a bunker-buster, fend this off? And so the saga goes on.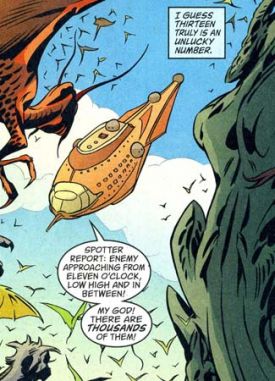 Dragons surround The Glory of Baghdad.
And so
Fables
goes on without any signs of slowing down, not in the writing by Bill Willingham or the art of Mark Buckingham. Since
The Good Prince
arc, Cinderella has proven to be a top-notch assassin and Boy Blue, having lost out in a romance with Red Riding Hood, strikes out again with another girl --or has he? Her name is Rose Red and she admits to having had a crush on Blue but he waited too long. Well, maybe not. For now, Blue can only see dragons swarming down on him.
If you've been meaning to join in on the story, do it now.
Rating: 10 /10
Last Updated: July 2, 2020 - 16:53