Comics / Comic Reviews / DC Comics
FABLES # 22
By Koppy McFad
February 15, 2004 - 13:31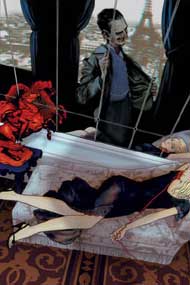 A self-contained story which has Cinderella going to Paris for a mysterious liaison that may involve the betrayal of Fabletown into the hands of the Adversary. But hold onto your hats because nothing in this story is as it seems and revealing more details would just spoil the fun.
Willingham's dialogue is still top-notch, especially the last lines in the end on the French. The twists in his tale are clever and unexpected but at the same time are totally credible, unlike most comic-book mysteries which are either transparent or unconvincing. But Willingham also seems to be getting into a rut by repeatedly resorting to the trick of subverting the popular image of a fairy tale character to show that he or she is a completely different person from what we saw in the Disney version. This time, we learn that Cinderella is quite a femme fatale and that Ichabod Crane has more dark secrets than a fear of headless horsemen. After awhile, this kind of thing loses its power to shock. When we finally see King Arthur revealed to be a Jewish, cross-dressing, hemophilic dwarf, everyone is just going to yawn.
The art is adequate but nothing to get excited about. This is a disappointment since part of the tale is set in Paris and Cinderella should have been drawn as really hot. It could have been a breath-taking tale but it ends up looking like a rush, fill-in job.
Last Updated: July 2, 2020 - 16:53