Comics / Comic Reviews / DC Comics
Northlanders #22
By Andy Frisk
December 10, 2009 - 22:52
Hilda and her daughter Karrin are forced to face the harsh Russian winter alone with no one to help them. Hilda's husband died form the plague, and the other families must look after their own. Fortunately, Hilda's husband was wealthy and the pair is well provided for. Unfortunately, Gunborg, the settlement's chief merchant, and resident evil, is more than aware of this. When he comes calling for the demanded emergency fund tithe, decreed by the settlement's leader "the old man," Hilda must take on the burden of lugging her share by herself to the great hall or face a near pillaging of her home by Gunborg…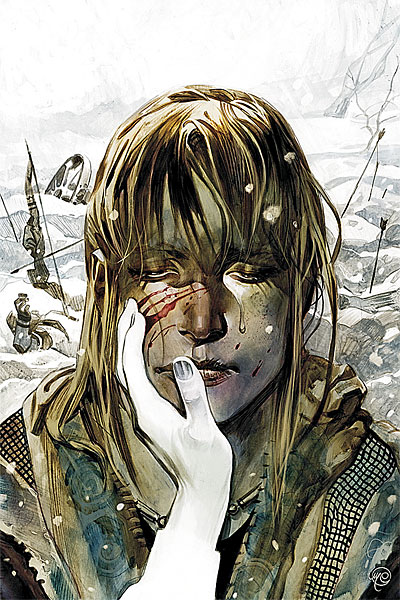 Brian Wood continues his epic series, Northlanders, with a powerful second chapter of "The Plague Widow" that really establishes Hilda as an incredibly strong, and admirable, character. Wood has always managed to deliver strong female characters, and with Hilda he maintains this trend. Hilda's struggle is as heroic as it is painful to watch unfold. Hilda though isn't the only strong character created by Wood and given a role in this tale. Boris, the settlement's priest is nearly as well developed as Hilda, and he bears watching as the epic continues to unfold. His confrontation of words with Gunborg is classic Wood dialogue. When Gunborg warns Boris that he will be coming to collect his tithe soon, Boris responds with, "I own nothing, constable, but my quick wit and these ratty robes. And if you want either…you're welcome to try to take it off me." The tension between the two is palpable, and the impending confrontation between the two will be quite a conflict.
Another great aspect of Wood's writing is that he continues to craft a series of tales set 1000 years in the past, with characters who live in a very different world from ours, yet are very similar to us in motivation, conviction, goodness and evil. Hilda is the struggling, but strong single mother. Gunborg is the money and power hungry Godless capitalist. Boris is the progressive who's not afraid to voice his opinion and stand up to the settlement's baser elements. Hilda is shown some kindness, by a neighbor and by Gunborg's nephew, but their motivations are unclear. Are they really motivated out of concern for Hilda or are they attempting to get at Hilda's wealth by means simply more subtle than Gunborg's?
Leandro Fernandez's art matches the strength of Wood's storytelling panel for word. His style is comprised of equal parts detail and minimalism. He does a great deal with the snow covered, and therefore nearly blank, landscape creating subtle displacement marks in the snow that colorist Dave McCaig does a superb job of shading to excellent effect. Fernandez has a great grasp on the characters and conveys facial expressions and body language strikingly. He also has a strong grasp on some pretty historically accurate weapons and garb. It's obvious he's done his research.
Overall, Northlanders continues to be one of the jewels in the hilt of the sword that comprises DC Comics' Vertigo line of hits. Vertigo's sharp cutting edge of books is stronger than it has been in years, and Northlanders deserves, and demands, worthy attention.

Rating: 10 /10
Last Updated: January 24, 2022 - 11:00