Comics / Spotlight / Black Astronaut
Will Nick Fury Come back as a Black Guy after Secret Invasion?
By Hervé St-Louis
May 21, 2008 - 22:30
I've had this hunch for a while now that Nick Fury in the regular Marvel comic book universe will come back as a black guy, probably quite related to Samuel L. Jackson as a consequence of the
Secret Invasion
crossover.
Nick Fury is the former Director of S.H.I.E.L.D. (Strategic Hazard Intervention, Espionage Logistics Directorate), a Marvel comic book spy and surveillance organization, under the United Nations whose goal is to fight terrorism. Created in 1963 by Stan Lee and Jack Kirby and first appearing in
Sgt. Fury and His Howling Commandos #1
, Nick Fury was modelled after
James Bond
-type of secret agents.
When Marvel Comics introduced Nick Fury in its alternate comic book line known as the ultimate universe in
Ultimate Marvel Team-Up #5
, he was introduced as a black man, although he looked very different from his current look which is modelled after black American actor Samuel L. Jackson. Marvel Comics subsequently asked the actor the right to model Nick Fury after him.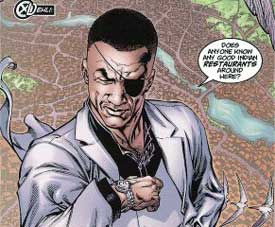 First appearance Ultimate Team Up #5
In the recent
Iron Man film
, released on May 2, 2008 and produced by Marvel Entertainment, Nick Fury, played by Jackson, appeared at the end of the credits, introducing himself to Iron Man's alter ego, Tony Stark and speaking about his
Avenger's initiative
. In that film as well, as elsewhere, such as the
Ultimate Avengers direct to DVD
films, the black version of Nick Fury has been the one used.
Marvel Comics, like DC Comics, having introduced mostly caucasian characters in their history appear ethno-centric when their properties are taken outside of the comic book where a diverse a coloured North America is the norm. For example, when Cartoon Network introduced the
Justice League cartoon series
, it picked Green Lantern
John Stewart
, who is black, instead of
Hal Jordan
and
Kyle Rayner
, who are Caucasians. Within the comic books themselves, a lot of efforts are done to introduce characters from different backgrounds.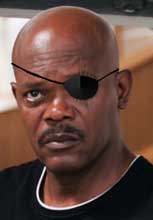 Samuel L. Jackson playing Nick Fury
When Marvel Comics created the Ultimate comic book line, it changed the ethnicity, the age, the relationships and even the sexual orientation of several characters to present a less conformist image. While these changes have been accepted and gone through without hurdles in the Ultimate line, not much has changed in the regular Marvel universe which many comic book enthusiasts consider as the main and proper continuity of the characters.
Because comic books exist as part of larger entertainment offer, their marketing and images must be consistent from one medium to another. If not, the effort to promote characters as viable properties with cross market appeal are wasted. For example, when DC Comics reintroduced the Green Lantern comic book series, it found that it could no longer hide Green Lantern John Stewart. For a while, he even starred in the
Justice League comic book series
.
Following the release of the Iron Man film, Marvel Entertainment, now producer of its own films has to manage the proper cross marketability of all its properties. As one of those promising properties, continuing to portray Nick Fury as a white man makes no business sense, even in the main Marvel universe. If a series of films on Marvel properties will involve Nick Fury playing in the sidelines and culminating in an Avenger's film featuring Iron Man,
Hulk
, Thor, casting Samuel L. Jackson makes more sense than casting
David Hasselhoff
.
David Hasselhoff playing Nick Fury
Nick Fury has disappeared mostly from comic books briefly before the
Civil War
storyline that started in 2006. It is said that he has been in hiding, after discovering the presence of alien Skrull infiltrators on Earth. As Marvel Comics has being promising a lot of changes related to the Secret Invasion crossover, it seems like there are no better opportunities for the publisher to make Nick Fury a black man who looks quite a lot like Samuel L. Jackson. I can't explain how they would pull it off, or even claim that I've received a secret plug from someone at Marvel Comics (remember – The Comic Book Bin does not gossip). But I'm interested in knowing if Nick Fury being black is one of the promised changes Marvel Comics is hoping to introduce.
Last Updated: March 10, 2022 - 22:00