Iron Man Has That "Can Do" Spirit
By Leroy Douresseaux
May 19, 2008 - 12:11
After years of watching other movie studios make hundreds of millions bringing its comic book characters to the big screen (Spider-Man, X-Men), Marvel Studios makes its first foray into financing and making its own superhero movie. It's called Iron Man, and this first Marvel Studios movie is as bold and as brash as Marvel's attempt to bring the classic armored superhero to the silver screen on its own dime.
Tony Stark (Robert Downey, Jr.) is a billionaire industrialist and genius inventor, and his Stark Industries is the U.S. government's top weapons contractor. He has celebrity status as the protector of American interests around the globe and lives a carefree lifestyle. While in Afghanistan, his military convoy/escort is attacked, Stark is gravely injured by life-threatening shrapnel embedded near his already weakened heart. Kidnapped and held hostage by a group of insurgents, Stark is forced to build a devastating weapon for Raza (Faran Tahir), the mysterious leader of the insurgents. Instead, Tony uses his intelligence and ingenuity to build a high-tech suit of armor and escapes captivity.
Returning to America, Stark is determined to come to terms with his past and vows to take Stark Industries in a new direction, but meets resistance from Obadiah Stane (Jeff Bridges), his right-hand man and top executive, who took the reigns of the company while Stark was gone. Spending his days and nights in his workshop, Tony develops and refines the suit of armor that gives him superhuman strength and physical protection. When he uncovers a nefarious plot with global implications, Stark once again dons his new, more powerful armor, and with the help of his longtime assistant, Pepper Potts (Gwyneth Paltrow), and his trusted military liaison, Jim "Rhodey" Rhodes (Terrence Howard), Tony Stark fights evil as his new alter ego "Iron Man."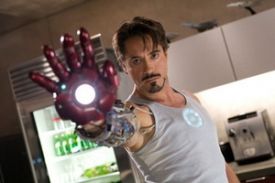 Stark (Downey, Jr.) tests the arclight technology that will power his suit.
There are several reasons why this Iron Man film turns out to be such a joyous and entertaining film. The main reason is Robert Downey, Jr. as Tony Stark/Iron Man. Much has been made that Downey has used his experience as an addict to play Stark (a heavy-drinking playboy), who, in some of the Marvel comic books, was portrayed as an alcoholic. The truth is that Downey is simply a superb actor whose talent has been overshadowed by his public battle with his demons. Here, Downey offers a complicated view of both the man and superhero just as Tobey Maguire has done as Peter Parker/Spider-Man and Christian Bale as Batman (in Batman Begins).
Downey presents Tony Stark as a hard worker and hard player. He's dedicated to creating the best weapons for the United States, but he focuses on his down time with equal zeal; he's all work and all play. This is how Downey presents Stark as a man who is so self-centered and so focused only on what he wants to do that he essentially ignores everything and everyone else around him. Stark takes his friends for granted, and although he works hard to create the best inventions for his company, he actually ignores how Stane is running it. By presenting such a fully developed character, Downey uses that performance to drive both the narrative and its central conceit – in order to better the world, Tony Stark, with the help of Iron Man has to better himself.
Iron Man's visual effects are another element that sells the film. The CGI and other special effects look slick, as would befit a futuristic hero who wears shiny, beyond state-of-the-art technology. Still, there is an earthy quality to it that becomes this tale of a knight in shining armor that saves both the world and the man inside the armor.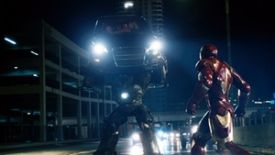 The glorious Iron Monger/Iron Man throw down that starts this flick's last act.
The third and fourth elements about Iron Man that really stand out are actor Jeff Bridges and director Jon Favreau (who also has a small acting role here). Bridges is a consummate actor, and I would be hard-pressed to find an instance in which he gave a poor performance. Stane, for the most part, is a small role, but Bridges so easily creates the duplicity, menace, and outright evil of Stane that the character's dark presence and ominous machinations straddle the narrative just the way a villain and his wrongness should do in a superhero movie.
Finally, Jon Favreau already has a blockbuster to his directing resume, the heart-warming and wonderfully endearing Christmas flick, Elf. It was, however, his thoroughly underrated children's sci-fi flick, Zathura (2005) that gave him the chance to show how much he understood handling a complicated technical production. In Elf and Zathura, Favreau also showed his knack for constantly offering surprises in his film narratives. It doesn't matter if it is a quiet moment, a moment of intense drama, or a sequence of slam-bang action and SFX; Favreau always offers something visually appealing – the presentation of an event or a bit of dialogue that keeps the film fresh and moving. The viewer's interest is usually stimulated and kept focused on the film. With Iron Man, Favreau wisely takes Downey's witty and droll turn and makes a film that from beginning to end is absolutely fun to watch – with no time for a dull moment.
A-
Last Updated: September 6, 2021 - 08:15