About This Movie: Iron Man
By Leroy Douresseaux
May 1, 2008 - 13:52
PARAMOUNT PICTURES and MARVEL ENTERTAINMENT Present
A Marvel Studios Production
Iron Man (2008)
DIRECTOR: Jon Favreau
WRITERS: Mark Fergus & Hawk Ostby and Art Marcum & Matt Holloway
PRODUCERS: Avi Arad and Kevin Feige
CINEMATOGRAPHER: Matthew Libatique, ASC (D.o.P.)
EDITOR: Dan Lebental, A.C.E.
PRODUCTION DESIGNER: J. Michael Riva
COMPOSER: Ramin Djawadi
Starring: Robert Downey, Jr., Terrence Howard, Jeff Bridges, Gwyneth Paltrow, Faran Tahir, and Shaun Toub
Opening date: Friday, May 2, 2008
Running time: 126 minutes
Rating: MPAA – PG-13 for some intense sequences of sci-fi action and violence and brief suggestive content
Paramount Pictures and Marvel Studios present Iron Man, the big screen adaptation of Marvel Comics' legendary superhero and the title character of a long-running comic book series, Iron Man.
Tony Stark (Robert Downey, Jr.), CEO of Stark Industries, is a billionaire industrialist and genius inventor. With Stark Industries being the U.S. government's top weapons contractor, Tony has achieved celebrity status as the protector of American interests around the globe for decades, and Stark lives a carefree lifestyle.
That comes to an end forever when a convoy of which he's part is attacked following a weapons test Stark oversaw, and the attack leaves Stark gravely injured by life-threatening shrapnel embedded near his already weakened heart. Kidnapped and held hostage by a group of insurgents, Stark is forced to build a devastating weapon for Raza (Faran Tahir), the mysterious leader of the insurgents.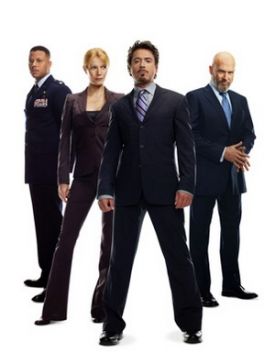 Publicity shot of Howard, Paltrow, Downey, Jr., and Bridges.
Instead, Tony uses his intelligence and ingenuity to build a high-tech suit of armor and escapes captivity. He returns to America, determined to come to terms with his past and vowing to take Stark Industries in a new direction. He meets resistance from Obadiah Stane (Jeff Bridges), his right-hand man and top executive, who has taken the reigns of the company while Stark was gone. Spending his days and nights in his workshop, Tony develops and refines the suit of armor that gives him superhuman strength and physical protection.
When he uncovers a nefarious plot with global implications, Stark once again dons the powerful armor. With the help of his longtime assistant, Pepper Potts (Gwyneth Paltrow), and his trusted military liaison, Rhodey (Terrence Howard), Tony Stark vows to protect the world as his new alter ego "Iron Man."
Visit the IronMan film site.
Last Updated: September 6, 2021 - 08:15