Love*Com: The Movie - VIZ Pictures
By Al Kratina
March 8, 2008 - 10:50
Love*Com: The Movie
2006, Japan
Director: Kitaji Ishikawa
Writer: Aya Nakahara (comic), Osamu Suzuki
Starring: Ema Fujisawa, Teppei Koike, Shosuke Tanihara, Nami Tamaki
Genre: Comedy
Rating: Not Rated
Running Time: 100 minutes
DVD Distributor: VIZ Pictures
Website: http://www.lovecomthemovie.com/

There's a stereotype that all Japanese films are animated movies about ninja demons or horror films featuring pre-pubescent ghouls with hair like Type O Negative. Clearly, that's not true, because they've also made Godzilla sequels, and cursed thousands of parents in the 1990s with endlessly repeated Power Rangers episodes. All these stereotypes are broken by the bouncy, colorful Love*Com, a manga adaptation that's the cinematic equivalent of a Miley Cyrus bobblehead.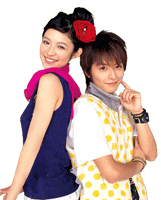 To call this comedy is light would be an understatement too massive for an accompanying metaphor, though if pressed I'd resort to saying it's "like calling Schindler's List a downer". That's not to say that the film is bad. It's just that I'm so used to watching torture-porn and documentaries about the rape of Nanking that I felt like a cavefish dropped in a tanning bed when I watched this film. Bright colours, bouncing title cards, and a meth lab's worth of energy fuel this story of statuesque Risa Koizumi, who falls in love with the diminutive Atsushi Otani. This height difference is comically portrayed as the fatal flaw of their love affair; star-crossed lovers as doomed by mismatched sizes as a horse trying to hump a border collie. Naturally, all is not lost, and a climactic basketball quickly becomes the only way to ensure the couple's everlasting love. Somehow.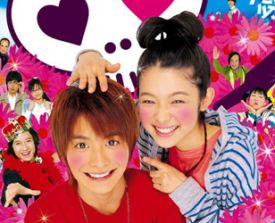 Love*Com is ridiculous. That's a given. But if you accept that, it's easy to at least grudgingly enjoy the film's infectious charm. There's no real tension, but these types of films are not made to keep anyone on the edge of their seat. All in all, watching the film is a pleasant enough experience. If there's a criticism to be leveled at Love*Com, it's that the film is ultimately disposable. It's the bubblegum pop of Japanese cinema, but one that drifts through the pop-culture ether innocuously enough, leaving scant trace of its passing, as opposed to the lasting scars of, say, an Avril Lavigne single, or an episode of Power Rangers.
Rating: 6 /10
Last Updated: August 31, 2023 - 08:12