VIZ Pictures to Release 20th Century Boys on DVD
By The Editor
November 10, 2009 - 15:13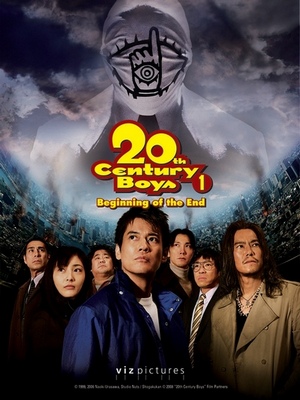 20th Century Boys movie poster
VIZ PICTURES TO RELEASE 20TH CENTURY BOYS 1: BEGINNING OF THE END ON DVD
Special Theatrical Screening Also Planned For Live Action Sci-Fi Film – The First In A Trilogy Based On Popular Manga Series By Naoki Urasawa
VIZ Pictures, an affiliate of VIZ Media, LLC that focuses on Japanese live-action film distribution, will release the science fiction feature 20th CENTURY BOYS 1: BEGINNING OF THE END on DVD on December 15th in the United States through its distributor, VIZ Media. 20th CENTURY BOYS will carry an MSRP of $24.92 US / $35.99 CAN.
The 20th CENTURY BOYS saga was directed by Yukihiko Tsutsumi (who also directed the live-action film, HAPPILY EVER AFTER which is also available from VIZ Pictures) and is based on a popular manga series by Naoki Urasawa. It all begins in 1969 when a young boy named Kenji and his friends write "The Book of Prophecy" in which they write about a future where they fight against an evil organization trying to takeover the world and bring about doomsday. Years later in 1997, a mysterious cult being lead by a man only known as "Friend" emerges and begins to gain strong influence over society. A series of catastrophic events begin to occur mirroring the prophecies made up by the young Kenji and the greatest fear is the climax of "The Book" becoming a reality; December 31st, 2000, a terrifying giant virus-spreading robot will attack the entire city of Tokyo leading to the end of mankind. The only people who know about "The Book" are Kenji and his childhood friends. Who is "Friend"? Will Kenji and his friends be able to save mankind and live to see the 21st Century?
"20th CENTURY BOYS mesmerized audiences at its U.S. theatrical premiere in San Francisco this past summer and we're very proud to announce its North American debut on DVD," says Seiji Horibuchi, President and CEO of VIZ Pictures. "Naoki Urasawa's multi-layered story of childhood mystical prophecy, government conspiracies and alien invasion is given a lavish production treatment and the film's ending is a real cliffhanger that's also very different from the original manga series. We look forward to introducing audiences to this exciting 3-part science fiction saga!"
VIZ Pictures has scheduled theatrical screenings of 20th Century Boys 1 in December at VIZ Cinema, the nation's first theatre venue devoted exclusively to Japanese film operated by VIZ Pictures, Inc. On December 10th, starting at 7:30pm, VIZ Pictures has a special event to celebrate the DVD release of the first chapter of the trilogy. Tickets are $25.00, which includes a pass to the film screening, the brand new DVD, a poster, and more! VIZ Cinema is located inside NEW PEOPLE, a newly opened entertainment destination in the heart of San Francisco's Japantown offering the latest examples of Japanese popular culture. Tickets are available at www.vizcinema.com or can be purchased at the theatre box-office. For more information about this event, please visit www.vizcinema.com or www.viz-pictures.com.
For more information on 20th CENTURY BOYS or other VIZ Pictures titles please visit www.viz-pictures.com.

About VIZ Pictures, Inc.:
Based in San Francisco, California, VIZ Pictures, Inc. licenses and distributes selective Japanese live-action films and DVDs, with focus on Japanese "kawaii (cute) and cool" pop culture. VIZ Pictures strives to offer the most entertaining motion pictures straight from the "Kingdom of Pop" for audiences of all ages, especially the manga and anime generation, in North America. Some titles include DEATH NOTE, 20TH CENTURY BOYS, and TRAIN MAN: DENSHA OTOKO. VIZ Pictures is also the producer of NEW PEOPLE, a part of the J-Pop Center Project, a unique entertainment destination bringing Japanese pop culture through film, art, fashion, and retail products. For more information please visit www.viz-pictures.com or www.newpeopleworld.com.
Last Updated: August 31, 2023 - 08:12