VIZ Pictures Announces "20th Century Boys 3" on DVD
By The Editor
May 20, 2010 - 09:25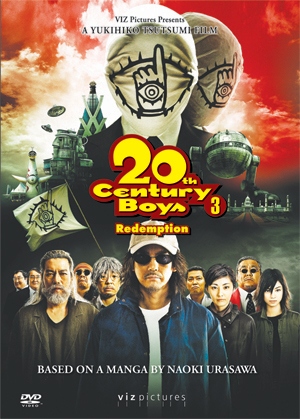 20th Century Boys 3 poster
APOCALYPTIC PROPHECY AND FRENETIC ACTION REACH A STUNNING CLIMAX IN THE FINAL CHAPTER OF 20TH CENTURY BOYS FILM TRILOGY
VIZ Pictures Releases DVD Of 20TH CENTURY BOYS 3: REDEMPTION
VIZ Pictures, an affiliate of VIZ Media, LLC that focuses on Japanese live-action film distribution, concludes the epic sci-fi film trilogy based on Naoki Urasawa's acclaimed manga, 20TH CENTURY BOYS, with the release of the final film, 20TH CENTURY BOYS 3: REDEMPTION, on DVD on June 1st. The film, which will be distributed by VIZ Media in North America, will carry an MSRP of $24.92 U.S. / $35.99 CAN.
VIZ Pictures celebrates the release with a film screening of 20TH CENTURY BOYS 3: REDEMPTION for one-night-only at VIZ Cinema in San Francisco on Thursday, May 20th at 7:00pm. VIZ Cinema is the nation's only movie theatre devoted exclusively to Japanese film and is located at 1746 Post St., in the heart of the city's Japan-town. Tickets to attend the movie-only are: $10.00; or attend the film and take home the brand new DVD, a 20TH CENTURY BOYS poster, and more for only $25.00. Trailers and more details are available at: www.vizcinema.com.
Directed by Yukihiko Tsutsumi and presented in partnership with Nippon Television, the 20TH CENTURY BOYS saga begins in 1969 when a young boy named Kenji and his friends write "The Book of Prophecy." In the book, they write about a future where they fight against an evil organization trying to take over the world and bring about Doomsday. Years later in 1997, a mysterious cult being led by a man only known as "Friend" has emerged and gained strong influence over society. A series of catastrophic events begin to occur, mirroring the prophecies made up by the young Kenji.
In the final film, the year is Friend Era Year 3 (2017 A.D.) and the World President, Friend, rules humanity. After a deadly virus ravages Tokyo, a wall is built around the city and inhabitants' lives have been severely restricted. Friend tells everyone that on August 20th, aliens will destroy mankind and only those who believe in him will be saved. But a movement to stop Friend is in motion. Is protagonist Kenji really still alive? What is Friend's plan for August 20th? Will the mystery behind the true identity of Friend be uncovered? All of the prophecies, schemes and plans will be finally revealed in the saga's exciting concluding chapter.
"Fateful prophecies reach an exciting climax in the final chapter of the 20TH CENTURY BOYS saga," says Seiji Horibuchi, President and CEO of VIZ Pictures. "Our film screening on May 20th at VIZ Cinema will give fans a special opportunity to catch all the frenetic action on the big screen, and we invite audiences to explore all of the 20TH CENTURY BOYS films as well as the manga series that inspired them. There is also a brief recap of previous stories on the very beginning of the movie, so people who haven't watched Chapters 1 and 2 can catch up on the story."
The 20TH CENTURY BOYS trilogy is based on the critically-acclaimed manga series created by Naoki Urasawa (also published by VIZ Media, rated 'T+' for Older Teens) and was a national phenomenon in Japan, selling over 24 million copies.
For more information on 20TH CENTURY BOYS or other VIZ Pictures titles, please visit www.viz-pictures.com.

About VIZ Pictures, Inc.:
Based in San Francisco, California, VIZ Pictures, Inc. licenses and distributes selective Japanese live-action films and DVDs, with focus on Japanese "kawaii (cute) and cool" pop culture. VIZ Pictures strives to offer the most entertaining motion pictures straight from the "Kingdom of Pop" for audiences of all ages, especially the manga and anime generation, in North America. Some titles include DEATH NOTE, 20TH CENTURY BOYS, and TRAIN MAN: DENSHA OTOKO. VIZ Pictures is also the producer of NEW PEOPLE, a part of the J-Pop Center Project, a unique entertainment destination bringing Japanese pop culture through film, art, fashion, and retail products. For more information please visit www.viz-pictures.com or www.newpeopleworld.com. © 2009 VIZ Pictures, Inc.
Last Updated: February 5, 2023 - 09:06