VIZ Pictures Announces "Battle League Horumo" on DVD
By The Editor
June 30, 2010 - 13:57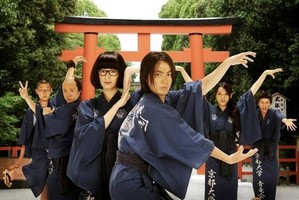 Battle League Horumo image
VIZ PICTURES RELEASES THE COMBAT ACTION COMEDY BATTLE LEAGUE HORUMO ON DVD
Zany Action Film Based On Best-Selling Fantasy Novel Features Special Effects By Renowned Animation Studio GONZO
VIZ Pictures, an affiliate of VIZ Media, LLC that focuses on Japanese live-action film distribution, will debut the live-action combat comedy film BATTLE LEAGUE HORUMO on DVD on July 6th. The release, which will be distributed by VIZ Media in North America, will carry an MSRP of $24.92 U.S. / $35.99 CAN.
VIZ Pictures also celebrates the release with a special theatrical screening of BATTLE LEAGUE HORUMO – for one night only – on Friday, July 2nd at 7:00pm at VIZ Cinema in San Francisco. VIZ Cinema is the nation's only movie theatre devoted to Japanese film and animation, located at 1746 Post St., in the heart of the city's Japantown. $25 ticket includes a movie ticket, the brand new DVD and a poster! $10 regular admission is also available. Advance tickets, trailers and more details are available at: www.viz-pictures.com or www.vizcinema.com.
BATTLE LEAGUE HORUMO is also set to be screened at the 2010 Anime Expo, taking place July 1-4 at the Los Angeles Convention Center in Los Angeles, CA. Find details for the convention at www.anime-expo.org.
Based on the best-selling fantasy novel Kamogawa HORUMO written by Manabu Makime, the live-action BATTLE LEAGUE HORUMO takes audiences on a wild adventure that blends the breathtaking backdrop of Kyoto with the bizarre legend of "Horumo." After failing the entrance exam and enduring two years of cram school, Akira Abe (Takayuki Yamada) finally gets accepted to the prestigious Kyoto University. One day while on his way home with a friend, Akira meets a senior who invites them to a welcome party hosted by his club called the Azure Dragon. With nothing to lose, they decide to go for the free food, but while there Akira meets Kyoko Sawara, a beautiful girl with a perfect nose, and he falls head over heels for her. Now smitten, Akira goes in to persuade his friend to join the club with him in the hope that he can get closer to the girl of his dreams.
At first, the club appears to be an ordinary social group, but the new members soon discover the mysterious 1000 year-old tradition of the "Horumo" battle upheld by the four universities of Kyoto. The battle is fought between 10 players from each team who each manipulate an army of 100 spirits (referred to as Oni) to fight their opponents. The members each go through rigorous training to achieve fluency in the Oni language as well as learn the indefinable gestures that are required to complement it. Let the battles begin!
BATTLE LEAGUE HORUMO features stunning visual effects that vividly bring the Oni spirits to life and were created by the renowned GONZO animation studio, which also produced animated features like Afro Samurai, Brave Story, and Basilisk.
BATTLE LEAGUE HORUMO was directed by Katsuhide Motoki (Kitaro And The Millennium Curse, 10 Promises To My Dog). The film stars Takayuki Yamada, who is well-known for his role as the awkward and bumbling young man in Train Man: Densha Otoko (also available from VIZ Pictures), along with actress Chiaki Kuriyama, who appeared in the Japanese horror film Ju-on and made her Hollywood debut in director Quentin Tarantino's Kill Bill Volume 1.
For more information on BATTLE LEAGUE HORUMO or other VIZ Pictures titles, please visit www.viz-pictures.com.
Last Updated: February 5, 2023 - 09:06