Comics / Comic Reviews / Marvel Comics
Logan #1 (of 3)
By Patrick Bérubé
March 10, 2008 - 09:19
Logan #1 of 3
Marvel Comics
Writer: Brian K. Vaughan
Penciler: Eduardo Risso
Color: Dean White
Cover: Risso/White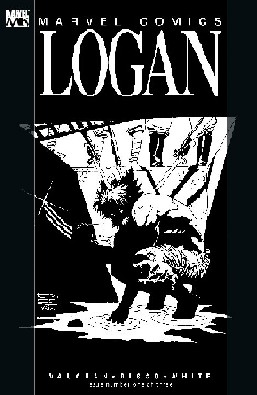 Risso B&W variant
Logan, aka Wolverine, is on the path of the past. As he travels to Japan to settle an unfinished business, he slowly remembers how it all began. That's how we discover his involvement in World War II and his subsequent imprisonment in the land of the rising sun. We also learn how he met with another prisoner and how they both escaped only to brutally part ways as Logan tried to protect a mysterious girl…
Brian K. Vaughan once said in an interview that with classic character, he preferred to be good than innovative. And that's exactly the formula he is using here. Not that the story is not new, but instead of reinventing the wheel he presents us a story where the core concept of the character is put forth. This may be why it seems so refreshing. Also, Vaughan proves again that he is a master when it comes to cliffhangers by dropping a bomb on us on the last page. Add to that good dialogues and you have an entertaining read.
On the art, Eduardo Risso succeeds at translating the scenario's mood onto the page. His trademark use of high contrast is once again very effective and gives Logan a fierce and intimidating look. The colors, even if they seemed a little bland a couple of time, really match Risso's style and help further in establishing an atmosphere. The blood on the cover is a very good example of that.
Speaking of the cover, it is also very interesting. It's simple but very effective and it reveals only enough information so we can guess where and when the story takes place. Add to that a black background and a bold white title and you've got an eye-catching piece.
I'm really looking forward the next issue and if I were you, I would not wait for the trade. Brian K. Vaughan clearly understands the medium in which he works, and the story is really made to be read on a monthly basis with a solid cliffhanger. A really great start for a mini-series and very accessible to new reader or to people who doesn't know every turn and twist of Logan's background.
I rate this comic book 8 out of 10
Last Updated: January 24, 2022 - 11:00