Justice League: Throne of Atlantis

By Hervé St-Louis
February 24, 2015 - 22:27
After the invasion of Earth by Darkseid, the Atlanteans of Atlantis have suffered considerable losses and their prince Orm wants to invade the surface world. Justice League member Cyborg investigates the capture of a submarine by the Atlanteans and is the victim of an attack. Can the Justice League stop an invading army of Atlanteans from conquering the surface world or will the man of both worlds, Arthur Curry, also known as Aquaman be the one to stop the war?
Justice League: Throne of Atlantis
, as confirmed in the extras by producer James Tucker, follows directly what happened in
Justice League War
released last year. It is also in the same continuity as
Son of Batman
. In Justice League War, audience welcomed the future members of the Justice League in the new reboot continuity that takes after the New 52 from the comics. In an earlier direct to home film
Justice League The Flashpoint Paradox
, the Flash had rebooted the entire universe. Tucker described the new DC comics cartoon universe as a parallel to the Marvel cinematic universe with new projects released twice per year. I don't mind this strategy at all. In the past, very few of the direct to home DC Comics-related cartoons by Warner had any continuity even though they often shared character model sheets.
The character model sheets in this new continuity are by Phil Bourassa who is best known for his work On
Young Justice
. Bourassa's styling has replaced Bruce Timm's visual signature as the animated definition of DC Comics characters. His style is less cartoony but more realistic. Timms' designs came from classic cartoons and favoured simple geometric shapes that could be easily reused by animators to create stock body types. Bourassa's design also rely on geometric shapes, especially triangles. However, there is more variety of body types and more definitions. Costume designs often have angular patterns, which has made some people compare his work to animé. Bourassa's work is not animé-based. It's an update of the old Marvel animation look used in series like
G.I. Joe: A Real American Hero
and
Spider-man and his Amazing
Friends. It is easier to animate than more realistic stylings but without cartoon exaggerations.
Yet, in Throne of Atlantis, Bourassa has finally reached Rococo levels. Rococo, in painting history was the exaggeration of Baroque elements into a caricature. Bourassa's good character design for Aquaman in Young Justice in favour of a horse face abomination. All Atlanteans in Throne of Atlantis have this ugly long face with flat semi-existing noses. The characters look unattractive and prevents the viewer from identifying with them. Who wants to root for an Aquaman or a Mera which look less inviting and unfriendly?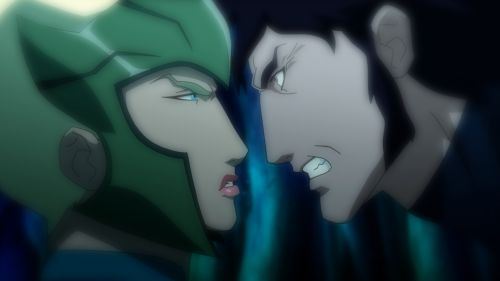 Being unfriendly is not the only problem Aquaman has in this film. He is boring. He quickly accepts his new fate as an Atlantean without questioning Mera about why he should care for the mother who abandoned him as a baby. By trying to portray his growth as a hero, the creative team decided to make him a loser and a drunk who has so little, that when he is presented with the opportunity to sit on the throne of Atlantis, he accepts it as if it was his one way ticket out of misery. We never get to see him discovering his powers. For example, shouldn't he panic when he wakes up under the sea, miles from the surface in an Atlantean antechamber? No, he just takes it in stride and doesn't question anything. When he starts to control sea animals, there is again a lack of wonderment and mystery. In the story, it's established that he knew about his super strength and durability. It's unclear if he knew that he could breathe underwater. Aquaman also knows how to fight. The creators do not explain how he became so good.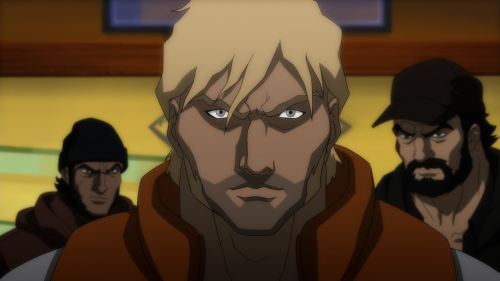 Great villains, the cliché goes, define great heroes. Based on Orm, the Ocean Master and Black Manta, Aquaman is a lame hero. First Orm. Actor Sam Witwer who voices Orm was the most annoying villain in this film. I wasn't sure if he was trying to mimic Leonidas in
300
. Every time he shouted something like "For Atlantis" I cringed. His voice is too high pitched. He sounds winy and like a pampered adolescent. Perhaps the spoil brat characterization was what voice director Andrea Romano was trying to convey. Her work on this film disappointed me. Voice casting is something Warner Animation takes seriously usually. I've made fun of
Avengers Assemble
for the cheesy voice acting. I never thought that I would call a Warner Animation studio film's voice acting, cheesy. Witwer was over the top and should have reigned his dramatic urges a bit. Bad voice acting makes viewers disengage from the plot. From that moment on, viewers easily notice plot holes instead of focusing on the the action.
Black Manta was underused in this film. Sure, he was the mastermind. But in his final confrontation with Arthur, he literally went down too fast. Black Manta has been a "bad ass" in Young Justice and Justice League: The Flashpoint Paradox. There, he was incredible as a schemer and as a fighter. Here, he was nothing but a henchman. He met a twisted fate that was played as a joke and as a
clin d'oeil
to the
Justice League
comic book by Geoff Johns and Jim Lee. I hope that he will come back because he was anything but threatening in this film.
The movie advanced many subplots that we will see in future animated films. For example, it featured the
infamous Superman/Wonder Woman relationship
that started in the comics. I don't want to be a traditionalist who only think that Lois Lane is the one for Superman. Pairing Superman and Wonder Woman makes the latter a female clone of the former. She was such a clone that she could even breathe underwater like Superman. I don't recall Wonder Woman ever breathing underwater in the Silver Age or after. They used a cheeky ploy back then to explain that she was covering herself with a thin Amazon space suit. Making both Superman and Wonder Woman water breathers diminishes the uniqueness of Aquaman in his own movie. But I understand that the aesthetics of putting a respirator on Wonder Woman's face is not sexy.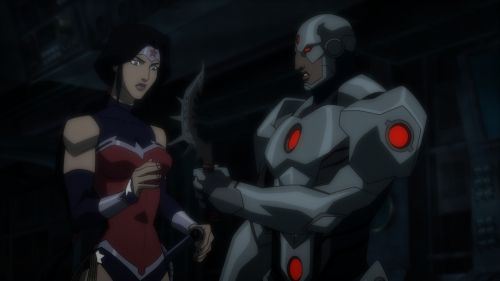 Other characters also annoyed me. First, all of the Justice League faired poorly against the magical trident wielded by Ocean Master. All of them except for Aquaman were easily defeated by it. This was stupid. Next is Shazam. What are his powers again? I felt that Sean Astin's voice and acting as Shazam were too close to Nathan Fillion's Green Lantern. There wasn't much to differentiate them. In terms of character types both are the Smart Alec / joker of the Justice League.
Justice League Throne of Atlantis tried to portray Aquaman as a credible super hero and even drew on the family drama and Arthurian legend to make its point. But the epic moved too fast and it was difficult to connect with the character. Aquaman is one of my favourite super heroes but I wasn't thrilled by this film designed to showcase him as best as possible. It felt like the creators packed as many elements to force us to care and engage with the story. Instead, they produced a mediocre film that lowers the value of the entire series. I don't understand how they managed to adapt several good stories from the comic books so badly.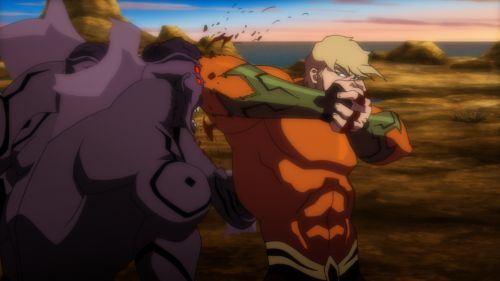 One thing needs t be mentioned. The level of violence in DC Comics animated films since the Flashpoint Paradox is ridiculous. It seems that to make viewers care about super heroes and to show how great they are we need to see them kill their opponents continually. In Bruce Timms's Batman, Superman and Justice League, deaths were rare. Yet, we did not think less of the heroes. This film has a PG rating and it should not. I have complained about a similar deceptive rating with the Flashpoint Paradox. The people who rate films on behalf of the public are not doing their job. I would never show this film to a child. It is not meant for them. It should be at least PG13 if not more due to the gore and violence. There is a lot of dismemberment in this film. I don't know how this got approved by the evaluators in Hollywood.
The title of the story is reminiscent of
Game of Throne
. In a way, this decision, probably taken by the marketing team, explains what is wrong with this project. It was about trying to make Aquaman look as realistic and great as possible to kill his lame duck perception. Just like DC Comics continuity, I don't think that Aquaman is a problem. Warner Animation is now suffering from the same disease that makes the crew at DC Comics constantly doubt their work and the legacy of past comics. They blame everything on continuity or other reasons instead of their tendencies to pick at their own scabs nonstop and destroy whatever good they had by trying to make sense of what should be a fantastic universe. It feels as if DC Comics is ashamed of being DC Comics and tries to be something it is not. The same doubts which lead to inferior products is visible in Throne of Atlantis. They had a strong premise but by trying to make everything epic and important, the crew at Warner Animation forgot that the story matters more and that viewers desperately want to relate to heroes.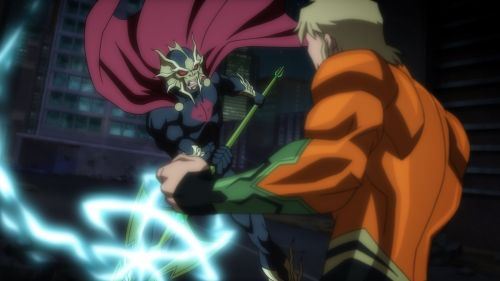 On a positive note, I will say that the animation was decent. It was animated overseas. Although the integration of 3D elements with 2D elements was still poor after over a decade the studio performing such work. The extras are where the Blu-ray collection version of this film shines. There are many extra episodes from various Warner projects featuring DC Comics characters. However, I would have changed some of the selection. Instead of the Supergirl episode whose relevance I could not understand, they should have included "The Enemy Below" where Orm first tried to take over Atlantis and to kill Aquaman. Perhaps they did not include this old
Justice League
story because it was the prototype used for Throne of Atlantis and a much better story and portrayal of Aquaman...
Rating: 5 /10
Last Updated: February 5, 2023 - 09:06