Comics / Comic Reviews / DC Comics
Hal Jordan and the Green Lantern Corps #21
By Avi Weinryb
Jun 4, 2017 - 12:12
The villainous Sarko seeks to destroy and remake the Green Lantern and Sinestro Lantern Corps and he has the power to do it. Time travelling Rip Hunter has come from the future to warn the Lanterns and work with Hal Jordan to stop him before it is too late. But as Hal and Rip head out to face off with Sarko, the Lanterns, including Kyle Rayner, John Stewart and Guy Gardner are tied down, fighting Sarko's creatures formed from pure willpower. This issue concludes the "Prism of Time" storyline and it's a jaw-dropper.
The script finds the perfect balance between a bunch of diverse characters, allowing them to play off each other and all have moments to shine. Robert Venditti's game is tight and he makes use of time travel for some unexpected, devastating results. The fact that Sarko is drawing his power from a gauntlet of the legendary Krona really cements this issue within the grand canon of the DC Universe, and a surprise revelation about one character's lineage reveals why learning about the future isn't always a good thing. It's a helluva way to end an issue and will undoubtedly set the stage for some really interesting moments in the future.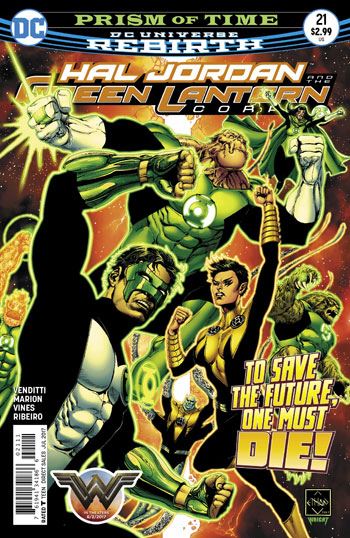 The art keeps up with the story, delivering utility and nuance in all the right places. Marion and Vines make a great team. Marion's pencils are fully realized, with a precision and consistency that holds up as he experiments with a variety of perspectives and runs through a bunch of characters, all in a fight for their lives. Action is never muddled and layouts are sufficiently creative.
This series is taking off and the final panel helps it get there. If you've been a fickle Lantern fan, dipping in and out of the books since Geoff Johns walked away from it, come back and give it a shot. You'll be pleasantly surprised. Unlike other DC Comics titles, some of which have been majorly reworked since "Rebirth", this stays true to its past and keeps an eye toward the future. No-one can ask for more than that.
Support this writer on Patreon
Last Updated: Jun 26, 2018 - 9:28