Comics / Comic Reviews / DC Comics
Review: Hal Jordan and the Green Lantern Corps #46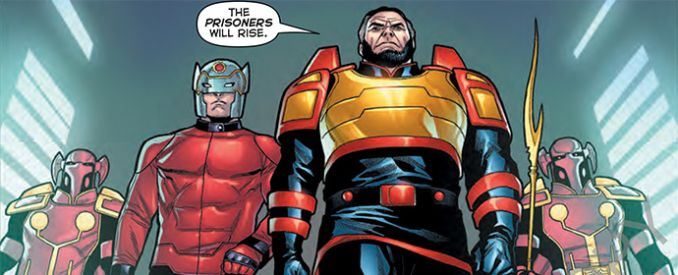 By Philip Schweier
June 13, 2018 - 04:01
The Darkstars have taken Guy Gardner as one of their own, and if you know anything about Guy, you know he's got a lot of grudges to settle. But who do you send after him, to talk him in off the ledge? Hal? John? He never listens to them when he's in his right mind, what makes you think he will do so now?
MEANWHILE… Hal has enlisted Hector Hammond, who desperately wants to make amends for his past crimes. He's willing to do whatever Hal asks of him, or whatever Hal is unwilling to ask of him. As for John, he's sought help from General Zod (no, really). What's even more surprising is that Zod has actually agreed. And Kyle? He's being held prisoner on New Genesis. High Father has decreed a non-involvement policy, so that may or may not be a dead end.
I'm not a fan of these kinds of chapters in a story, where help is sought from various quarters and we see a handful of heroes all recruiting allies for the coming battle. The names change, and the result is the same. The only variant is how to convince the would-be ally.
The Rise of the Darkstars has not been the major story arc I was expecting. It hasn't impacted the whole of the DCU like I'd hoped. It's like a musical note that never quite reaches its proper pitch, so I'm ready to move on to the third act – the aforementioned battle. But wait – didn't the last major story arc conclude with a major battle? Yes, I believe it did.
But with so many Green Lanterns, redundancy is par for the course. Rating: 5/10
Last Updated: February 5, 2023 - 09:06