Guardians of the Galaxy Vol. 3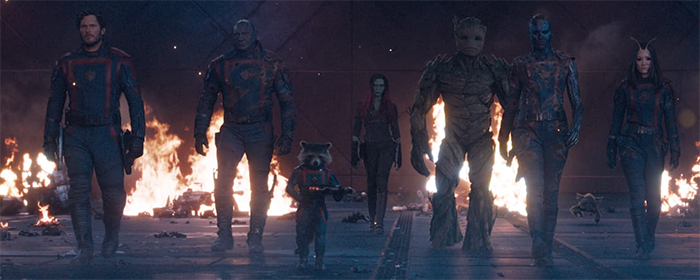 By Hervé St-Louis
June 23, 2023 - 15:15
Rocket Racoon is badly hurt during an attack by Adam Warlock who was tasked to return him to his master, the High Evolutionary. The Guardians must scramble across the galaxy to unravel the medical protections so they can heal him. But the High Evolutionary is not letting up. He wants Rocket back and will destroy planets to retrieve him. Can the Guardians withstand such a dire threat?
This movie is James Gunn's salute to the
Guardians of the Galaxy
and Marvel as he heads to DC. This movie was different from the first two in that the formula was changed, and Chris Pratt's Peter Quill was not centerstage this time. Rocket, the backbone of the team, was. The plot with Gamora also finally ended with her not falling in love with Quill a second time. The movie will draw some applaud by showcasing the consequences of animal cruelty, albeit in a fictional setting, The message was loud and clear about how we treat animals.
As usual, the story and the twists were fun, including Nathan Fillion's Master Karja. I was not as nostalgic as Gunn so mopey scenes, such as the one where Groot spoke a full sentence did not do anything for me. This movie was for the fans and the most fun Gunn can have playing with an existing property. I doubt that DC gives him as much freedom.
Recently, it seems that every superhero film suffers from bad visual effects and 3D animation. Not this one, at a first look. Although Fillion's costume looked like weird sumo dress up suit, the visual effects worked in this film.
Last Updated: August 31, 2023 - 08:12