Comics / Comic Reviews / Marvel Comics
Guardians Of The Galaxy #0.1 Review
By Alexander Jones
February 27, 2013 - 17:41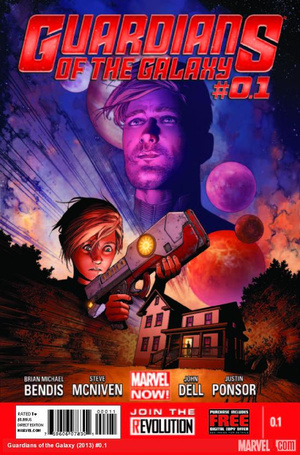 As a fan of the Dan Abnett and Andy Lanning series of The Guardians Of The Galaxy I was expecting this new series from Brian Michael Bendis to be a little different from the previous incarnation. However this issue contained a large theme that was missing from the previous series: The theme is humanity. This issue serves as an origin for Peter Quill. While the story does hit some familiar beats the way it is rendered by penciler Steve Mcniven elevates the story to greatness. The story opens up with J'Son Of Spartax crash landing on earth, Meredith Quill takes the odd stranger into her house and cares for his health. Eventually the unlikely couple fall in love and Meredith becomes pregnant. However Meredith discovers her pregnancy on the day when J'Son leaves earth to return to his home planet. J'Son is in a war with an alien species and does not let Meredith come with him. The story then flashes a few years into the future and Peter Quill is born and a young child. The alien race at war with his dad come back one day and murder Meredith. A young Peter Quill is left orphaned and his only possession is an intergalactic space gun from his father whom he has never met. This issue is revealed as a framing device as Peter Quill is telling his origin story to Iron Man and the rest of
The Guardians Of The Galaxy
.
The issue contains incredibly touching and beautiful scenes where Meredith and J'Son fall in love and paints a beautiful image in your head. While Brian Michael Bendis is known for his dialogue he also knows when to let the wonderful panels speak for themselves. When he lets the comic breath without words it is truly at it's finest. These wordless sequences will touch readers and at times lead them very close to tears. The scene where Meredith discovers she is pregnant is another great example of this as she touches her stomach and just knows without any needless dialogue or exposition. Without any words this is communicated to the reader wonderfully.
Peter Quill goes through an incredible journey and watching him stumble through life without a dad is heartbreaking. Upon closing this book Peter Quill's adventures will stay with you. Yet so will Steve Mcniven's pencils. Mcniven lets go of some of the hyper detail and lets his art speak for itself. Upon closing this book one of the things you will remember is a flash of colors and wonderful light expertly colored by Justin Ponsor. Ponsor has been adding color expertly to the
Ultimate Spider-Man
series and
Guardians Of The Galaxy
is not an exception to this streak. This specific issue is a point one, meaning that it is supposed to take place before the first and introduce itself to new readers. Readers can enjoy this book free from the Comic Book continuity of the past few decades and enjoy one of the best new Comic Books of the year.
Guardians Of The Galaxy 0.1
will haunt your dreams and leave you incredibly excited for the next issue. In serialized storytelling where a new issue is published monthly there is nothing more that you could possibly ask from a series. Get in on this Comic Book from the ground floor and discover this new cosmic side of the Marvel Universe.
Rating: 10 /10
Last Updated: January 24, 2022 - 11:00