Comics / Comic Reviews / Marvel Comics
Ghost Riders: Heaven's on Fire #1 (of 6)
By Andy Frisk
August 16, 2009 - 10:07
Jason Aaron's Ghost Rider is back after a brief hiatus in the regular ongoing series. Ghost Riders: Heaven's on Fire looks to be the ninth symphony, if you will, of Aaron's run on Ghost Rider, and he starts it off with a movement that has all the great hallmarks of an Aaron story: action, humor, horror, and all around great storytelling and pacing.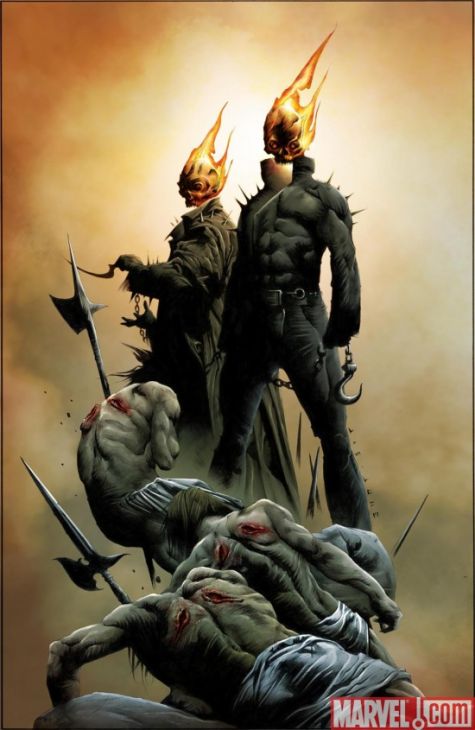 Blaze and Sister Sara, The Last of The Caretakers, are tracking down information on Zadkiel's plans and come across a couple who run a New Age Giftshop called "Angelic Affirmations." The two are more than regular shop owners with hippie jargon though, as Blaze and Sister Sara find out. After some great action, of course, Blaze and Sara get the info they're looking for. Meanwhile, a coven of Satan worshippers call on Hellstorm, The Son of Satan, for help in located their specially bred Anti-Christ. Hellstorm, of course, being an anti-hero, or hero, or whatever, has his own agenda. Blaze and Sara take off to find this Anti-Christ on their own as well, since Zadkiel plans to murder him in order to prevent Armageddon, and thusly stop the Biblical prophesy of the triumph of God over the Devil so he can pursue his own plans. So, Blaze and Sara are on a mission to save the Anti-Christ...classic.
So, if you're looking for the Anti-Christ who is out and about raising hell (no pun intended), where would you start? This is where Aaron's near unmatched sense of humor, for a Marvel Comics writer at least, comes into play. A perfectly laid out page, broken into four panels conveys all of Aaron's considerable powers of humor and satire perfectly. First stop is Vegas. "Nope, no sign of him here." comments Blaze. Next stop is Hollywood. "Not here either." Third stop is Washington D.C. "He was here, but now he's gone." Final stop is Wall Street. "He's here." So much satire and humor is packed into this one page so intelligently that Aaron's use of compact and concise humor and satire rivals any episode of The Simpson's or Family Guy.
Boschi's art fits the storyline well with its slightly over exaggerated feel. After all this is a story about over exaggerated characters who, two of which have flaming skulls, one of which is a son of Satan, and another is a Hellfire Sword swinging nun! Bosci's art also has a bit of a retro feel to it as evidenced when it is compared to the reprinted Ghost Rider #1 from September of 1973.
The reprint is a perfect choice as a bookend to this issue. It has all of the elements of those great 1970's horror comics that Aaron is emulating and paying homage to. It also has an appearance by Hellstorm, who will figure to play a major role in Heaven's on Fire.
Overall, after a few months without some great Aaron helmed Ghost Rider action, humor, and horror, it's great to see him back in the saddle again. This series has the promise of being the pinnacle of Aaron's Ghost Rider run.
Rating: 9 /10
Last Updated: January 24, 2022 - 11:00