Comics / Comic Reviews / Marvel Comics
Ghost Rider #34
By Andy Frisk
April 22, 2009 - 21:44
Danny Ketch is riding along trying to forget his big mistake, namely helping rebel angel Zadkiel knock down the walls of Heaven. When he comes across a burning trucker's diner, The Spirit of Vengeance once again takes hold of him and sends him off on a collision course, literally, with The Highwayman and his Black Rig. It turns out, as revealed by writer Jason Aaron on the issue's letters page (yes, GHOST RIDER has a letters page-bringing back fond memories when all comics had them at the end of each issue), The Highwayman is a villain from the old Marvel series US-1 from the 1980's about one U.S. Archer, a truck driver with the power to pick up CB Radio in his head after the surgical implantation of a metal plate in his head (ok, bear with me, I know that's about the silliest superpower I've ever heard of, but to Aaron it's the "coolest"). Apparently, The Highwayman was Archer's brother and arch-enemy.
I very, very vaguely remember US-1 from seeing it on the rack of my, then, local drugstore/shop where I rushed to every week to hurriedly look for the recent issue of Marvel's also 1980's series G.I.JOE: A REAL AMERICAN HERO, which comprised the bulk of my comic book collection at the time. Hey, I was a kid and G.I. Joe toys were my favorite playthings so I had to read the comics! I never read the US-1 comic book and probably only remember it because it has US on the cover and I probably thought, at first, it was another "war" comic book.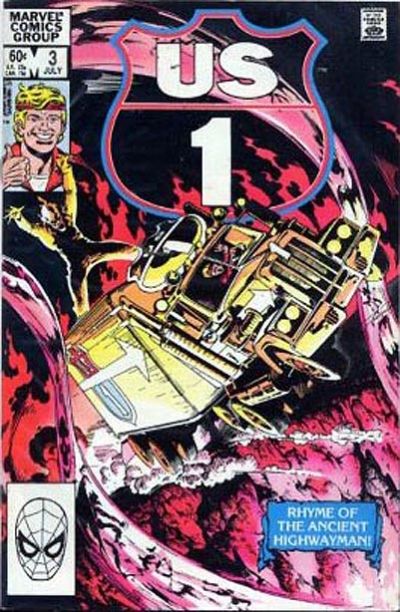 Original Highwayman
Turns out, The Highwayman is still at terrorizing truckers across the U.S. He seems to have to kill and feed his rig the freshly slain bodies of unfortunate truckers and/or, as in this issue a bus load full of "hippies" he runs across. Of course when Ketch still "cursed" with the Spirit of Vengeance comes across the remains of The Highwayman's handiwork he has to take him out, and what a fun, masterfully blended tale of horror and humor it is.
The Highwayman, having sold his soul to the Devil so that he could stay awake longer and physically keep up with the younger generation of truckers coming up who he was losing business to, has by this point been fully corrupted by the deal and now is just a free ranging demonic killer. The two panel comparison of him pre and post demon influence are great and humorous exaggerations. For example, his rearview mirror goes from dangling a rabbit's foot to dangling a baby's foot. The over exaggerated demonic look of his 8-Track (yes again, his 8-Track player), his "Well, hell…" reaction/comment to his decapitation by Ghost Rider, and Ghost Rider's nonchalant torching of The Highwayman's head as it attempts to crawl back to his body with his breath flames of Vengeance all contribute to this issue's subtle and dark humor. To me, it's humorous yet horrifying in a FROM DUSK TO DAWN (the first movie, NOT the terrible sequels) kind of way.
Moore's pencils are fantastic. They are detailed, scary and gory just enough to give you just a touch of the creeps without overdoing it and deliver all the great motorcycle vs. big rig action, each driven by a flaming skulled dude and demon trucker, respectively, you can handle. Moore also delivers plenty of humorous facial expressions on Ghost Rider and The Highwayman's faces yet knows how to buckle them both down and have them grit their teeth at each other. Couple Moore's pencils with another of Suydam's masterful covers and the art in GHOST RIDER #34 is as close to perfection for this kind of tale as you can get.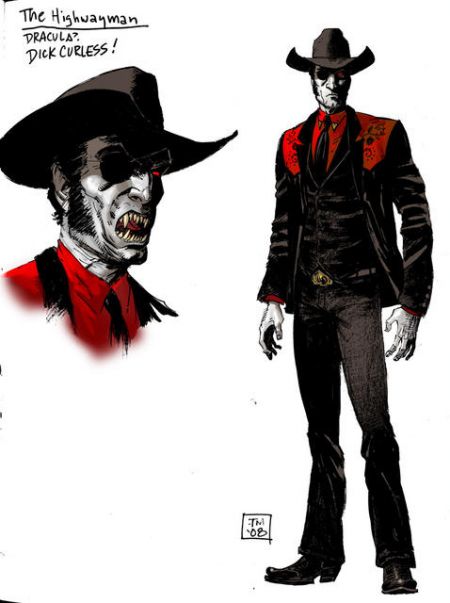 Moore's Highwayman
Overall, to me this is simply a great issue that was a joy to read and that I wish we had more of from this series. I also hope that Moore is the new regular pencil artist for the series for a long time. His work is great already and I am looking forward to his take on The Spirits of Vengeance doing nothing but getting better and better as time goes by. A funny, creepy, action packed adventure which is just simply a blast of hot fresh air. Oh and if we've got The Highwayman, can U.S. Archer be far behind???
Rating: 10 /10
Last Updated: January 24, 2022 - 11:00