The Two Ghost Riders
By The Editor
Oct 21, 2008 - 12:47
Ghost Rider Versus Ghost Rider!
After the shocking twist at the end of the extra-sized Ghost Rider #28, Johnny Blaze and Danny Ketch aren't just on a collision course anymore…they're at war! Enter Ghost Rider #29, from critically-acclaimed scribe Jason Aaron (Wolverine: Manifest Destiny) and Eisner Award-winning artist Tan Eng Huat present the epic battle you've been waiting for! Now's your chance to jump onboard the series that critics can't stop praising!
"Ghost Rider has moved up and become one of the most interesting and exciting things Marvel is publishing"—Paul Brian McCoy, ComicsBulletin.Com
"Tang Eng Huat's artwork is some of the most impressive, moody pencilwork I've seen in recent memory… Aaron allows his strong character work to drive the story along"—Bryan Joel, IGN.Com
"Jason Aaron's work on "Ghost Rider" has made the title one of Marvel's sleeper hits… it's undeniable that the series has finally carved out a niche for itself"—James Hunt, ComicBookResources.Com
"Jason Aaron has spent the last few months putting Ghost Rider on full speed ahead, pilling action on top of action at a breakneck pace"—Doug Turner, SuperheroTimes.Com
With buzz from fans and critics alike, Marvel urges retailers to check their orders on upcoming issues of Ghost Rider. Why has Ketch turned on his brother? And just where did his powers come from? Find out in Ghost Rider #29, as the Ghost Riders battle to the end! Plus, for more on Ketch, don't miss Ghost Rider: Danny Ketch #1, on-sale this week!

GHOST RIDER #28 (AUG082349)
Written by JASON AARON
Penciled by TAN ENG HUAT
50/50 Covers by MARC SILVESTRI
Parental Advisory …$3.99
ON-SALE NOW!
GHOST RIDER #29 (SEP082336)
Written by JASON AARON
Penciled by TAN ENG HUAT
Cover by MARKO DJURDJEVIC
Parental Advisory …$2.99
FOC—10/30/08, On-Sale—11/19/08
GHOST RIDER: DANNY KETCH #1 (of 5) (AUG082350)
Written by SIMON SPURRIER
Penciled by JAVIER SALTARES
Cover by CLINT LANGLEY
Parental Advisory …$3.99
IN STORES 10/22/08!
To find a comic shop near you, call 1-888-comicbook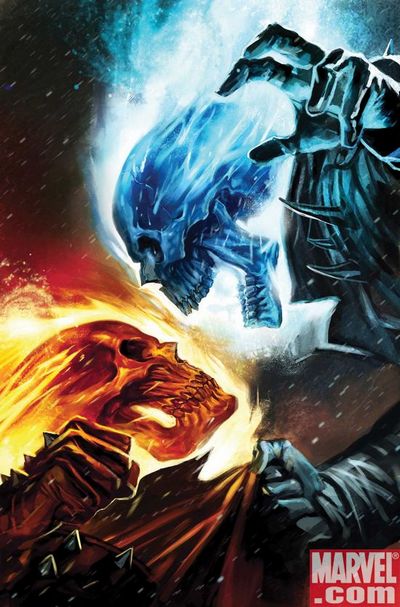 Cover image for Ghost Rider #29
Last Updated: Jun 26, 2018 - 9:28