Comics / Comic Reviews / DC Comics
Doomsday Clock #3
By Hervé St-Louis
Jan 28, 2018 - 13:36
It's Batman and Rorschach working together to find Dr. Manhattan. Ozymandias fights the Comedian yet another time. Is Lex Luthor dead?
Often in sequels, the creative team cannot possibly match the depth and quality set by the original creators. Their work is often a continuation but without all of the things that made the original so special. Geoff Johns attempts to do something rare here. He wants to make a Watchmen comic that has all of the intellectual depth of the original. One can tell that Johns has spent a lot of time studying Watchmen and trying to make his sequel match the intellectual firsts of the original. One problem that he will encounter is that readers know what to expect and will interpret the work the same. If for any reason, Johns's work fall short, readers will see it right away.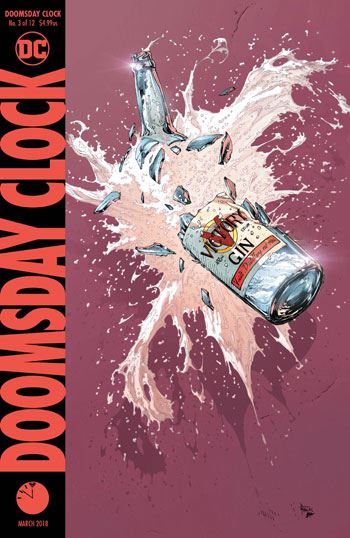 The format set by Alan Moore and Dave Gibbons may also limit what Johns can do with Watchmen. One would hope that Johns will break that. Another thing missing for now are clear politics. Although Moore created a narrative of political strife against meta humans in the original Watchmen, there were other swipes taken at the political masters of the day. Moore criticized neo-liberals in the United Kingdom and the United States. I cannot imagine Johns as a writer to be as critical or bold. Moore was a contrarian and probably and anarchist. Johns is a company executive at a multinational. Will he dare criticize the structure from which he benefits so much?
So far, the story is solid, and I enjoy seeing the proto Jokers in the form of Mime and the Marionette. I like the reintroduction of old DC Comics characters like John Law, Libby Lawrence and more in the articles that follow the comic. Gary Frank makes everyone in this comic look good while still drawing from Dave Gibbon's lead. I do wonder if he finds it ironic to draw a comic whose theme is similar to Supreme Power from Marvel where the presence of an alien baby on Earth was deemed responsible for the onslaught of meta-humans on that world. This is where John's story is weakest. He is threading old material that Marvel Comics had already intended for their version of the DC Comics universe.
Rating: 8 /10
Support this writer on Patreon
Last Updated: Jun 26, 2018 - 9:28