Comics / Comic Reviews / DC Comics
Doomsday Clock #1 comics review

By Leroy Douresseaux
November 29, 2017 - 20:04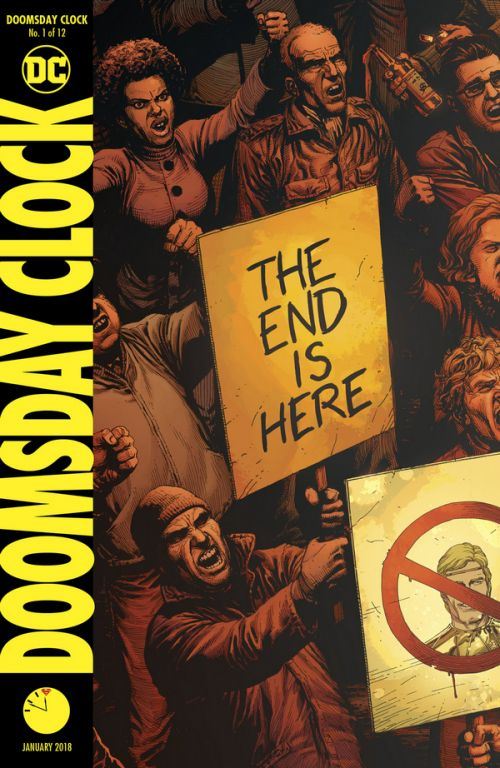 Doomsday Clock #1 main cover image
Rated "T+" for Teen Plus

Watchmen created by Alan Moore and Dave Gibbons

"That Annihilated Place"
Watchmen
was a limited series comic book written by Alan Moore and drawn by Dave Gibbons. It was initially published by DC Comics in 1986 and 1987 as a 12-issue maxiseries (a term DC still uses). Since that time, DC has published the entire series in numerous paperback and hardcover collections and limited editions.
Doomsday Clock
is a new 12-issue miniseries or "maxiseries" from DC Comics. It is written by
Geoff Johns
; drawn by
Gary Frank
; colored by
Brad Anderson
; and lettered by
Rob Leigh
. Doomsday Clock will introduce characters from Moore and Gibbons' Watchmen into the main DC Comics Universe.
Doomsday Clock

#1
("That Annihilated Place") opens on November 22, 1992 on the world in which Watchmen is set. The story opens in the aftermath of the apparent revelation of
Ozymandias
' scheme to bring peace among nations and mankind to the Earth (as seen in Watchmen #12). However, the world is now on the brink of destruction, and Ozymandias is a wanted man.
Rorschach
, whose diary revealed Ozymandias' scheme, is believed to be dead, but he is alive and in prison. Is this the same Rorschach who was once a colleague of Ozymandias and later, his ultimate challenger? And what does Rorschach want of a fellow prisoner?
THE LOWDOWN:
In the thirty years since it first published Watchmen, DC Comics has not been able to publish any superhero comic book that was nearly as popular or as influential as Moore and Gibbons' masterpiece. While I think that Watchmen was one of the best comic books of its time, I don't think that it is the "greatest comic book of all time," as some think, and I have moved on.
DC Comics has not, and that is why it published, beginning in 2012, "Before Watchmen," a series of miniseries (and a single-issue comic book) set in the world of and taking place before Watchmen. Because DC cannot move on and/or cannot replicate Watchmen, we now have Doomsday Clock, a kind of sequel.
I have to admit to liking Doomsday Clock #1. The first issue intrigues, but it requires that readers have more than a passing knowledge of Watchmen in order to fully enjoy it. Geoff Johns is nowhere near as good or as imaginative a comic book writer as Alan Moore, but Johns, at times, can be quite good and inventive at times, also.
While Gary Frank is no Dave Gibbons, Frank's drawing style is similar to Gibbons', and Frank is stylish and skillful. I also think that Frank has the talent to deliver great comics works, but thus far in his career, he has only produced pretty art in a number of high-quality comic books that are often little more than entertainment product – McComics, if you will. Some of those I would call exceptional, but, like a lot of comic book artists, Frank has yet to find a writer that can not only bring out of his best work, but also challenge him to deliver a masterpiece.
So I do not think that Geoff Johns and Gary Frank will produce in Doomsday Clock anything nearly as impressive or as memorable as Watchmen. I do think Johns and Frank could produce a comic book that is better than most superhero comic books that DC Comics currently publishes or has published in the last 30 years. Doomsday Clock #1 hints that it could happen.
I READS YOU RECOMMENDS:
Fans of DC Comics event series will want to read
Doomsday Clock
.
A
8 out of 10
Rating: 8 /10
Last Updated: September 6, 2021 - 08:15