Toys / Comics to Toys / Marvel Legends
Captain Mar-Vell
By Hervé St-Louis
June 15, 2008 - 10:30
Captain Marvel was created by Stan Lee and Gene Colan in Marvel Super-Heroes #12 in 1967 to help Marvel Comics secure the trademark of Captain Marvel that had lapsed because publisher a DC Comics had fail to publish recent comic books featuring the character. Because of Marvel Comics' move, DC Comics can no longer use the term "Captain Marvel" on the cover of its books, which is why the character's titles are always billed Shazam.


Marvel Comics' Captain Marvel started as a Kree soldier sent on Earth and with limited powers. When he was redesigned into his red costume by Gil Kane and re-thought by Roy Thomas, Captain Marvel was given powers and a modus operandi similar to DC Comics' Captain Marvel. He had to switch place with comic book side-kick Rick Jones, in order to escape the Negative Zone. Captain Marvel has achieved cult status after being the first super hero dying from cancer, in a story written and drawn by Jim Starlin.
Likeness
The Captain Marvel is of course based on the costume designed by Gil Kane. Of not, Kane's design had even-ended boots with some bands around them and no mega bands on the wrists. Captain Marvel's haircut is closer to Stalin design. As the boots are not pointy, the action figure represents an odd mix of the two artists' design. The sun logo on his chest is Golden instead of plain yellow.
Toybiz also created a variant of this action figure which depicts Captain Marvel's son, Genis-Vel.
Sculpting
Because of its simplicity, it is highly probable that the sculpting was used from a previous action figure. Some clues are the veins that appear on Captain Marvel's biceps, which is odd for a character sporting a full bodysuit. The sculpting is good and the face is just right. However, the feet are too long. Details on Captain Marvel's face are sharp.
Paint
The paint application is simple. The action figure is moulded in red plastics and paints without any shading has been applied to the blue areas. The hair does have varied hues which is good. The manufacturer applied little skin-coloured paint under the chin of the character which makes it look sloppy.
Scale
Captain Marvel will fit with all Marvel Legends action figures by Toybiz. Toybiz' Marvel Legends, will also fit with Hasbro's Legend line, which continues Toybiz' efforts. However, the Hasbro product seems a little larger than Toybiz's. Next to DC Direct action figures, Captain Marvel will look good only with older action figures from before 2004. Next to Marvel Select's Thanos and Death combo, Captain Marvel will look great. He is smaller than Death, but that's ok, given that the classic cover of the
Death of Captain Marvel
by Stalin shows that the hero is lying on the lap of Death, much like Michelangelo's Pieta.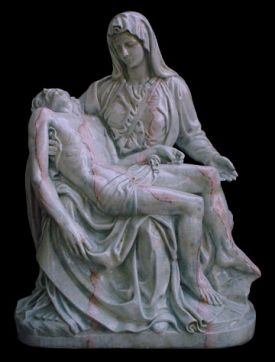 The Pieta
Stability
Because of his wide and large feet, Captain Marvel stands sharply on his own without any problem. Because his chest is hollow and made of light material, it is not a burden of weight on his legs. He has good and tight knees that also support the upper body very well.
Articulation
Captain Marvel has 35 articulations. He has double shoulder articulations that allow for more movements of the arms and pectorals. His elbows and knees also have double articulation for more motion. All articulations are stiff and sturdy and there is no fear of them making the action figure limp and unable to stand or pose for long times.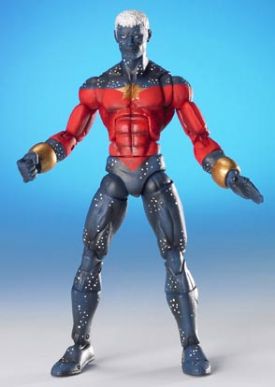 Captain Marvel variant
Plastic
The plastic used on Captain Marvel is a type of hard PVC material that is better than the stock used on most Toybiz action figures. If I compare to another action figure, like Daredevil, one can see that Captain Marvel's is superior and more durable. The articulations do not grind the plastic either.
Props
Captain Marvel comes with no props although he was packaged with the build a figure control panel for
M.O.D.O.K.
and a comic book reprint of
Captain Marvel #25
.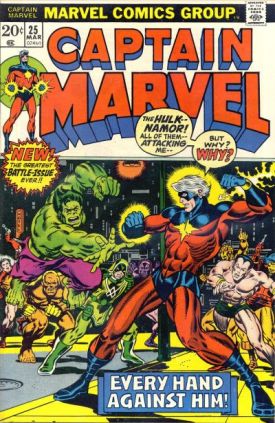 The cover of the reprint in the package is different than the original comic book represented here
Packaging
The packaging was the standard Marvel Legends soft plastic case that completely encased the action figure, the comic book and the M.O.D.O.K. prop. Of course, parents should open these packages for children as the plastic shards can be dangerous for children.
Cost
Prices vary on this action figure. Many stores like to sell it for $19.99 instead of the under $10 it is really worth. Large-scale store will sell for less than hobby shops.
Availability
This toy has been discontinued although stocks are probably available. However, as one of the last Marvel Legends toy made by Toybiz, there has not been continued new batch produced by the manufacturer. The variant sells for more usually.
Last Updated: January 24, 2022 - 11:00