Binnies 2010: Best Original Graphic Novel or Anthology
By The Comic Book Bin Writing Staff
Dec 31, 2010 - 14:10
Hello and welcome to the first annual Binnie awards, where our opinionated and talented writers give their selections for the best comic books of 2010, just in time to look forward to the new year. Just a reminder on the format, we each made a selection and, rather than making an ultimate winner out of these selections, we spread the love and let them all win.
Below are our selections for Best Original Grapgic Novel (OGN) or Anthology. OGN's are comic books originally released in a graphic novel format rather than collecting serialized installments. By contrast, the definition of Anthologies for the Binnies are collections of smaller stories, comic strips for example, into larger collections. Basically, this category is for those which are not covered under the Best New Series or Mini-Series and Best Ongoing Series.
Here's the winners:

Herve St. Louis: Life With Archie (Archie Comics)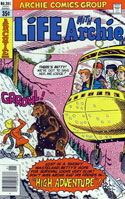 Yeah, I know, Archie. Many comic book fans think it shouldn't be here. Isn't Archie and the oversized magazine for teens? I don't care. The folks at Archie Comics have done an impressive amount of work in 2010. Life with Archie is a cool format and experiment. I also read the entire collection and enjoyed it myself. It's the type of experiment I'd like to read more of.
Andy Frisk:
Superman: Earth One
(DC)
J. Michael Straczynski's reimagining of the Man of Steel's origins for the 21st Century not only breathed new life into the first and best superhero ever, it made Superman an even hotter sequential art property than he already has been elevated to by Geoff Johns and his New Krypton saga. This feat alone is award worthy, but Straczynski's uncanny ability to create and write characters that we can't help but fall in love with (sometimes all over again) is incomparable.
Zak Edwards:
Strange Tales II
(Marvel)
Strange Tales is certainly its namesake. The project sees indie creators, and the term is sometimes loosely defined, take a no-holds barred crack at Marvel characters. Naturally, some of these stories aren't that great, but the good far outweighs the bad. From Jhonen Vasquez's take on a lonely and fat Wolverine eating hot dogs to a story of Harvey Pekar meeting the Thing, possibly one of the last things the late writer ever wrote. These stories are sometimes funny, sometimes poignant, but almost always good.
Leroy Douresseaux:
Richard Stark's Parker: The Outfit
(IDW)
This is some of the best (if not the best) crime fiction ever done in comic book form, and it actually surpasses the first book.
Use the Related Articles section below to access the other categories.
Last Updated: Jun 26, 2018 - 9:28