Batman: Gotham Knight
By Geoff Hoppe
July 12, 2008 - 14:11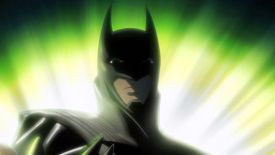 Oz is exploding in the background.

"Direct to video." They're the three most horrifying words in cinema since Marlon Brandon told Maria Schneider to "get the butter" in Last Tango in Paris. Lucky for Bat-fans everywhere, DC Comics' new direct to dvd production Batman: Gotham Knight avoids the usual direct to video awfulness and soars into the night on gossamer wings of competency.

In other words, it's not bad. Not spectacular, but definitely entertaining.

The Obligatory Warning: PG-13 language, a beheading, various gunshots and broken bones, and a headshot that even FPS Doug would marvel at.

Batman: Gotham Knight is made up of six interrelated vignettes set in the world of Chris Nolan's Batman Begins. Gotham Knight develops loose ends from that film, whetting the viewer's appetite before The Dark Knight opens next week. The six chapters, directed by six big-name anime creators, use a selection of visual styles, ranging from "lush and sumptuous" to "weaponized hallucinogen." The writing staff is an impressive mix, and includes David Goyer (Batman Begins, the Blade franchise), Brian Azzarello ( 100 Bullets, Batman: Broken City, Superman: For Tomorrow), Jordan Goldberg ( Batman Begins), Josh Olson ( A History of Violence), and Alan Burnett ( Batman: The Animated Series). Despite that promising roster, the stories are a mixed bag, with some very good, and a few cases of phoning it in. And, perhaps most importantly for those of you who grew up with Batman: The Animated Series, original voice actor Kevin Conroy reprises his role as Bruce Wayne.

While all six chapters will hold your attention, there's a considerable dearth between the first and last three. The first trio of stories, "Have I Got a Story for You," "Crossfire," and "Field Test," traffic mostly in impressive visuals and cool fight scenes, but are lacking in character development. The latter three segments more than make up for this, though. The fourth chapter, "In Darkness Dwells," takes Batman to the sewers to fight Jonathan "Scarecrow" Crane and Waylon "Killer Croc" Jones. The story, by Jordan Goldberg and David Goyer, moves with the confident speed of a good thriller and gives the relationship between Batman and James Gordon some unexpected depth. The visuals are also dynamic, and the character designs for the Scarecrow and Killer Croc bring new life to the characters without usurping their original look. I was surprised at this, given that Yasuhiro Aoki, one of the lead animators for this segment, also worked on a few Sailor Moon movies and something called "Tweeny Witches." (sounds kinky)

Working through Pain, written by Brian Azzarello and Jordan Goldberg, is arguably the best structured yarn of the entire film. Jordan Goldberg wrote the story, and Azzarello's subtle hand is apparent in his screenplay. Azzarello weaves a convincing fabric of flashbacks and transitions that effectively express a neurosis' ability to mutate time. But this is also the story's problem. Azzarello's Batman, while engaging, is a one-dimensional character enslaved to his guilt. This same myopic reading plagued Azzarello's otherwise entertaining takes on Batman in " Broken City" and "Superman: For Tomorrow." Jordan Goldberg's story is set in India, and pairs Bruce Wayne with a yoga expert named Cassandra, who teaches him to endure intense pain through meditation. The animation, by Toshiyuki Kubooka and Naoyuki Onda, is stunningly beautiful with its detailed depiction of Indian life and architecture. The characters are simply, fluidly designed, and look as good dodging switchblades as they do meditating on a bed of nails (again, kinky).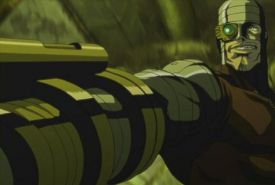 Deadshot IN 3-D!!!!!

The final story, "Deadshot," delivers the most pure fun of the six installments, and shows that Batman: The Animated Series writer Alan Burnett is just as deft with R-rated violence as he was with after-school cartoon limits on content. I grew up with Batman: The Animated Series, and it's a pleasure to see that one of the driving creative forces of that project works just as well with the gloves off as he did in a 4:30 pm timeslot. "Deadshot" introduces the villain of the same name, a Bullseye-style assassin with uncanny aim and an arsenal of firearms. It also stretches Batman's character beyond his normal, gun-hating comfort zone. This isn't the rifle-smashing Batman of Dark Knight Returns. Burnett's Bruce Wayne coolly grips a handgun and projects himself into the mind of the criminal, appreciating the false sense of power given by weapons. It's an unusual and welcome turn. The animation, done by the Japanese studio Madhouse (whose projects include such diverse titles as Card Captor Sakura and Death Note), goes in heavy for an angular, gothic look, and it works remarkably well. Their design for Gotham makes the city look as good as it's been since Tim Burton's 1989 interpretation of Batman, and even though the characters are drawn in the same sharp-edged, exaggerated fashion, they don't sacrifice any of their balletic grace or violent ruthlessness. (now I'm sounding kinky…)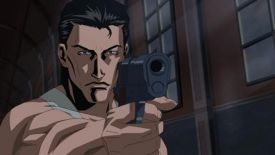 Bruce Wayne gets in touch with his phobias.

Batman: Gotham Knight deserves a nod for the ambition and imagination that drives the project, and the vignette format is a good match for a direct to dvd comic book movie. A similar format could work equally well with other DC Comics heroes, and the idea of a multi-chapter approach to the Green Lantern Corps or another Justice League project could have a lot of promise. Just so long as it doesn't involve overweight actors and a morally suspect application of dairy products.




Worth the money? Gotham Knight is a solid project, but the first half of the film keeps it from being worth the $30 asking price. But, if you're a Batman fan, an otaku, or just in need of that pre July 18th Bat-fix, it's definitely worth a rental.
Last Updated: January 24, 2022 - 11:00