Comics / Comic Reviews / More Comics
B.P.R.D. The Soul of Venice and Other Stories
By Geoff Hoppe
May 25, 2007 - 21:40
B.P.R.D.: The Soul of Venice and Other Stories is a paranormal jamboree. Comic writers love Mike Mignola so much, they decided to put their own stamp on his creation. Some of the results are great, some are lamentable, and one is forgettable. If you're a fan of the series, though, it's a jolly romp through the world's darker quarters. If you're not a fan, it still holds up pretty well.
The Obligatory Warning: violence, exploding zombies, brief but full nudity. Not for the kids.
The titular yarn, "The Soul of Venice," is the best story in the book. Written by Miles Gunther and Michael Avon Oeming, with help from Mignola, the tale takes the B.P.R.D. to Venice, where a ghostly disturbance has clogged the canals with refuse. I won't spoil the story, but I will say it involves a vampire, a goddess, and a Grand Marquis of Hell. It also gives Roger the Homunculus more depth than Mignola himself gave the character. It's a wonderful story, and if you don't want to buy the entire paperback, find this back issue one-shot. It's worth the search.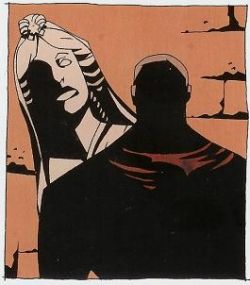 Roger meets a goddess.

Michael Avon Oeming's blocky, simple art outdoes itself. His depictions of Venice are tame, but his dungeons, classical statuary and malevolent demons are fully alive. Oeming's love for the characters and subject matter of B.P.R.D. is apparent in each panel, and makes the story all the better.

Brian Augustyn's "Dark Waters" is the weakest offering. In a small town in Massachusetts, the bodies of three girls unjustly killed in a witch trial return for vengeance. Laden with self-righteous cliché, "Dark Waters" uses Mignola's characters as furniture, there merely to get the B.P.R.D. stamp and sell copies. The dialogue is reserved for the boring locals, who include (and I'm not kidding) an honest cop, a hatemonger preacher, a tolerant, benevolent preacher and a dishonest politician. Next stop: the stock character warehouse, where Augustyn will tack on an Irish guy with a drinking problem and a cheerful Japanese schoolgirl. Guy Davis' art, however, is about as subtly convincing as it's ever been.

"Another Day at the Office," written by Mignola, epitomizes B.P.R.D.'s unique mix of humor and horror. A zombie uprising in eastern Europe is simultaneously frightening and commonplace. This combination of workaday sensibilities with the otherworldly is part of the charm of Mignola's world, and "Day at the Office" gives him the chance to focus solely on that aspect.

This volume also includes "There's Something Under My Bed" and Geoff Johns' "Night Train."

Worth the money? If you like the series or the genre. Casual readers, get a volume of Hellboy first.

Last Updated: Jun 26, 2018 - 9:28