Comics / Comic Reviews / More Comics
B.P.R.D.: Vampire #2 Advanced comics review
By Leroy Douresseaux
April 22, 2013 - 13:42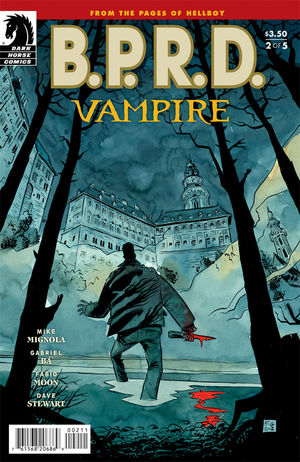 BPRD: Vampire #2 cover image
The Bureau for Paranormal Research and Defense (the B.P.R.D. or BPRD) protects America and the rest of the world from the occult, the paranormal, and the supernatural. The B.P.R.D. first appeared in the debut Hellboy comic book miniseries, Hellboy: Seed of Destruction (1994). The Bureau received its own title with B.P.R.D.: Hollow Earth (2002).
B.P.R.D.: Vampire is a direct sequel to B.P.R.D.: 1948 and is separate from the main B.P.R.D. series. This five issue miniseries is also set in 1948. It follows an apparently doomed Agent Simon Anders and his quest for revenge against a clan of vampires and its Gorgon-eyed queen, Hecate.
B.P.R.D.: Vampire #2 opens with Agent Anders traveling by train to Cesky Krumlov, Czechoslovakia. Twelve days prior to this trip, at B.P.R.D. Headquarters in Fairfield, Connecticut, Anders and Professor Trevor Bruttenholm consulted "witch maps." This decides Anders' destination.
Arriving in Cesky Krumlov, Anders meets his guide, Hana Novarov, from the Krumlov History Museum. The village is as strange as its history, which is what interests Anders. He has come to track the history of the mid-18th century figure, Eleonora von Schwarzenberg. Through Hana, Anders travels the long and winding road that is local history and the lineage of Wilhelm von Rosenberg, former Lord of Krumlov Castle.
THE LOWDOWN: In my comic book review of the first issue of B.P.R.D.: Vampire, I wrote that the basic plot, written by Mike Mignola, Gabriel Bá, and Fábio Moon, is straightforward and simple. The second issue begins to add more elements, and Agent Simon Anders' personality seems less like that of a stoic hero and more like that of a complicated, anti-hero type. Even Hana Novarov is a (delightfully) unknown quantity.
I like that Gabriel Bá and Fábio Moon's art fits nicely within the general graphic sensibility of the Mike Mignola universe (the Mignola-verse). The art is creepy, as befits a horror comic, but has the qualities of a magical folk tale or enchanted fairy tale. Yes, B.P.R.D.: Vampire is indeed a good read.
POSSIBLE AUDIENCE: Fans of Hellboy and of good comic books will want to read B.P.R.D.: Vampire.
Rating: 9 /10
Last Updated: January 24, 2022 - 11:00