Comics / Comic Reviews / More Comics
B.P.R.D.: Vampire #5 comics review
By Leroy Douresseaux
July 31, 2013 - 16:06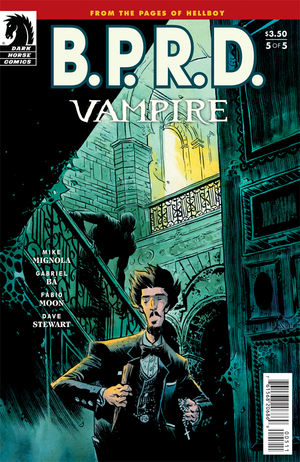 BPRD Vampire #5 cover image
B.P.R.D.: Vampire is a direct sequel to B.P.R.D.: 1948 and is separate from the main B.P.R.D. series. B.P.R.D. is the Bureau for Paranormal Research and Defense. This organization protects America and the rest of the world from the occult, the paranormal, and the supernatural.
A five-issue miniseries, B.P.R.D.: Vampire is produced by writer Mike Mignola and co-writers/artists Gabriel Bá and Fábio Moon. It is set in 1948 and follows Agent Simon Anders and his quest for revenge against a clan of vampires and its Gorgon-eyed queen, Hecate. After consulting "witch maps," Anders travels to Cesky Krumlov, Czechoslovakia. There, he and his guide, Hana Novarov, find Krumlov Castle, where Anders meets the conniving vampire sisters, Katharina and Annaliese.
B.P.R.D.: Vampire #5 opens at BPRD Headquarters in Fairfield, Connecticut. Professor Trevor Bruttenholm finds that he is the only one who can put an end to this vampire hunt. The Professor must also solve the mystery of the undead of Ceský Krumlov (Castle Krumlov). That means, however, that he must face the one who began the hunt, Agent Simon Anders.
THE LOWDOWN: Now, that B.P.R.D.: Vampire has ended, it is easier to fully appreciate how unique this series is. It is a scary story by way of horror fiction of many stripes: vampire, psychological, surreal, and weird.
Summoning their inner Mike Mignola, Gabriel Bá and Fábio Moon deliver some visually arresting graphical storytelling. Their art sells the idea that this is a story that is as impressionistic and psychological as it is literal. Damn, this is just a good looking comic book. Dave Stewart's striking colors make him part of the art team and also part of the story team.
Mignola, Bá, Moon, and Stewart are a comic book Fab Four. B.P.R.D.: Vampire is their excellent yellow submarine to Hell.
POSSIBLE AUDIENCE: Fans of Hellboy and of good comic books will want to read B.P.R.D.: Vampire.
Rating: 9 /10
Last Updated: August 31, 2023 - 08:12