Comics / Comic Reviews / More Comics
B.P.R.D. Hell on Earth: Monsters #2
By Leroy Douresseaux
August 9, 2011 - 09:57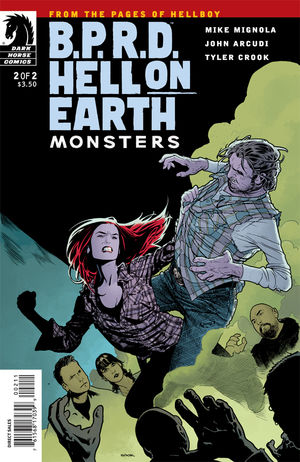 B.P.R.D. Hell on Earth Monsters #2 cover image
B.P.R.D. Hell on Earth: Monsters is a new two-issue storyline starring the Bureau for Paranormal Research and Defense (the B.P.R.D. or BPRD). This is the organization that protects the world from the occult, paranormal, and supernatural in Hellboy, the long-running comic book series and related books created by Mike Mignola.
B.P.R.D. Hell on Earth: Monsters #2 finds Liz Sherman (Hellboy's #1 female) ensconced in a weird trailer park full of hillbilly cult fanatics. Dumb as they are, the denizens of the trailer park have managed to make escape difficult for Liz. However, she has only two of the rednecks who aren't cultists to help her.
THE LOWDOWN: My first reading experiences with a B.P.R.D. comic book turned out to be good ones. A trailer park full of black magic cultists is such a good idea, it's a wonder it hasn't appeared in film. Hell on Earth: Monsters offers art by promising newcomer Tyler Crook, an added bonus to the weirdness writers Mike Mignola and John Arcudi weave. Crook turns out to be just right for this story. I have to say it: Hell on Earth: Monsters is a hella good read.
POSSIBLE AUDIENCE: Fans of Hellboy will want B.P.R.D. Hell on Earth: Monsters, but so will readers who enjoy Vertigo's dark and urban fantasy titles.
A-

Last Updated: February 5, 2023 - 09:06