Comics / Comic Reviews / DC Comics
Azrael #8
By Andy Frisk
May 20, 2010 - 22:23
The slaying of a major contributor to The Order of Purity in Paris leads Azrael on a Da Vinci Code like quest to find and vanquish his old enemies, La Saligia (The Cult of The Eighth Deadly Sin). Each member of the cult is an embodiment of one of the Seven Deadly Sins, and their mission is to recruit Michael Lane/Azrael into becoming the eighth member of their cult by becoming the "willing host to the last, long unknown sin of man"… which is…faith?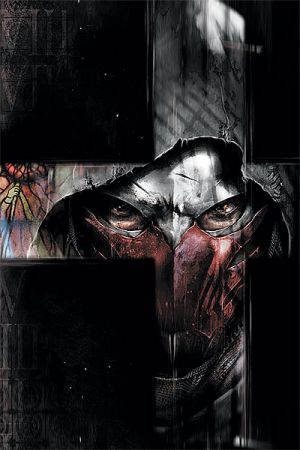 Michael Lane definitely is a man of faith, but to rank faith as the eighth deadliest of sins is quite a twist (and metaphoric masterstroke) by Azrael writer Fabian Nicieza. Michael has faith in God, believing that "faith gives us a moral grounding—goals to strive for" and that "God gives us all…strength of self…" The Cult philosophically argues against Michael's views though, seemingly convincingly…"What has organized religions ever done but divide humanity by preaching unity?" "The future of faith is not in organizations but faith in oneself!" Michael can see the logic in their arguments, but will he end up joining them on the strengths of these arguments? Time will tell…Before Michael engages upon his quest though, he learns some valuable information from an unlikely source that hints at a possible way to overcome the Suit of Sorrows' "stolen souls" by "becoming empowered" by them rather than " burdened by them." Michael might have to make the ultimate sacrifice literally to achieve this state though, as was hinted way back in Azrael #1.
Writer Fabian Nicieza often deals intelligently, and sometimes controversially, with thematic questions that investigate the validity of such things as blind faith, organized religion, and the political and social fallout often resulting from them. He continues to do so in his new Azrael story arc "Let Him Who Is Without Sin." Michael Lane finds himself tempted by the call to join the Cult of The Eighth Deadly Sin, but one has to imagine the temptation will be strenuously fought by Michael. Michael is a good man, and even though the Cult's arguments might make sense logically, they have to stir revulsion in Michael spiritually. Or do they? A story where a superhero fights against adversaries who have him fencing philosophically as well as physically with them is exactly what many mature readers, especially those interested in the "big questions" about the nature of philosophical entities such as faith, organized religion, and spiritual death and rebirth are looking for and finding in spades in Azrael. The added setting of Paris and a Da Vinci Code like search for The Cult's lair (which Michael references as "Da Vinci Code nonsense") are just the icing on the cake. This is the type of story and adventure I argued for Azrael to undertake some time ago, and Nicieza's use of a plot involving international intrigue, religious and philosophical speculation, and spiritual warfare (in a sense) makes use of Azrael's (the series and character's) full potential. Bravo Mr. Nicieza!
Bravo also towards artist Ramon Bachs' dark, moody, and gothic pencil work. His pencils simply ooze a rough and tough aesthetic with their sketch lines and rough edges while leaving plenty of room for atmospheric and foreboding shading. Colorist JD Smith completes Azrael's grim and shadowy look with his heavy colors that contrast powerfully with the color of the elemental fire that erupts from Azrael's cross insignia when he discovers the statues of the Seven Deadly Sins (which are nostalgically rendered like the statues of the sins in the old Captain Marvel books) and his flaming swords of "alchemical fire and ice."
Azrael has gone from being a sorry knockoff of the original character who debuted way back during the days of Knightfall to DC Comics' premiere religious fiction/horror/adventure mystery that easily dominates the niche market on superhero stories thusly themed. Its thoughtful themes and dark art make Azrael a rare gem of a read that should be read by a wider audience, and hopefully will be.

Rating: 9 /10
Last Updated: July 2, 2020 - 16:53