Comics / Comic Reviews / DC Comics
Azrael #1
By Andy Frisk
October 25, 2009 - 22:40
"An ex-cop in need of salvation. A centuries-old religious cult in search of a savior. A haunted armor. Swords that wield alchemical fire and ice. Michael Lane is…AZRAEL."
Azrael investigates a murder in Gotham that is linked to a rash of murders committed world wide where the victims have been strangely mutilated. Gotham's Police Dept. suspects someone along the likes of The Joker or Zsasz, as both are psychotic killers who are prone to mutilating their victims. Azrael's investigation leads him to a killer who is nothing of the sort of killers that The Joker or Zsasz are. In fact, when Azrael learns of the crimes committed by the victims of this killer, or of the victims' complacency in the crimes of one victim in particular, a very tough choice lays before our hero…Meanwhile, in a series of flash forwards, Sgt. Bullock of the GCPD investigates Officer Farelli, a friend of Michael Lane's, about his knowledge of Azrael's identity and why the lifeless body of Michael Lane has been discovered in a church…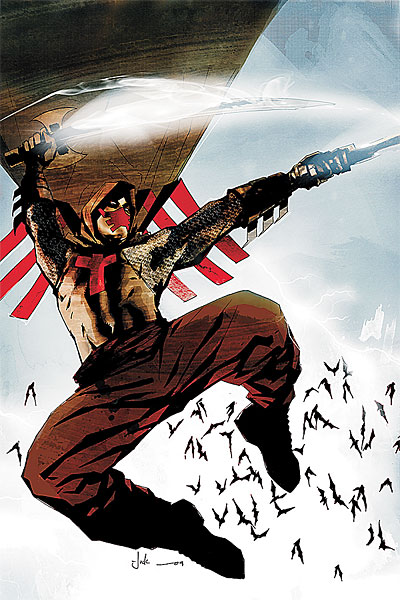 When Azrael: Death's Dark Knight debuted and ran its course last spring, it wasn't a particularly interesting or engaging series. This new Azrael seemed a pale imitation of the former, and he had a somewhat silly origin story. All of that is past us now, and now that he's been established, the character can move forward, and does significantly in his ongoing series' debut issue.
A character like Azrael really needs to take on more complex villains and themes than just the regular run of the mill Gotham street thugs. After all, the man is yet another living and breathing confirmation of the existence of the Judeo-Christian God in the DC Universe (something DC Comics hasn't been afraid to portray), so his adventures, and more importantly, his conflicts should reflect the conflicting nature of Judeo-Christian religion. By conflicting nature, I refer to the tensions that theologians have had to wrestle with for centuries, such as the conflicting doctrines of "an eye for an eye" vs. "turn the other cheek." In Azrael's first adventure, he delves head first into such an issue when he's faced with stopping a killer who is pursing a child molesting priest, or letting the killer complete his mission.
If Azrael is going to deliver some more complex socio-political, religious, or philosophical themes and stories like the one that this first issue starts off with, then Azrael is going to be a fantastic read. Admittedly, Ras Al Ghul is behind The Order of Purity in some sort of shadowy way (The Order of Purity being the religious cult that recruited Michael Lane to become Azrael) so Azrael will have to drift back into the Bat-Universe of heroes and villains, but hopefully we'll see a minimum of that aspect in Azrael's stories and more of the complex, religious questioning type of themes.
Artist Ramon Bachs does a fine job of capturing Azrael and Gotham's down and dirty, back alley, and gritty look. The opening shot of Azrael descending upon two street thugs with both swords glowing is really great. It would make a great promo poster for the series. While Bachs' style isn't quite as dark and ethereal as Frazier Irving's art on the Azrael: Death's Dark Knight series was, it's got a very strong urban fantasy look. Smith's colors are also strong and capture the glowing/flaming quality of Azrael's swords very well.
Urban fantasy is a good way to describe what this series really can be as it develops over the next few months. If Azrael really is going to "go beyond man's law and judge the guilty" then let's see some seriously guilty villains, either supernatural or super horrific (like child molesting priests) really get it stuck to them by Azrael's swords of justice. All the elements are in place; let's see if Nicieza builds on the promising start Azrael #1 has happily turned out to be.

Rating: 8.5 /10
Last Updated: July 2, 2020 - 16:53