Comics / Comic Reviews / Marvel Comics
Avengers: Children's Crusade #9
By Zak Edwards
Mar 14, 2012 - 21:16
After eight very confusing issues and a bloated one-shot to try to further bog things down, Allan Heinberg and Jim Cheung finally have a moment of clarity. Blame the schedule which, I have to admit, was pretty stable until the very end, but this story did not read like the original Young Avengers in all the bad ways. Gone were the wonderful character moments, team dynamics, and even the youthful uncertainty and issues of legacy of the original run. Instead, Heinberg has proven, by providing concrete evidence of the opposite, that less is more.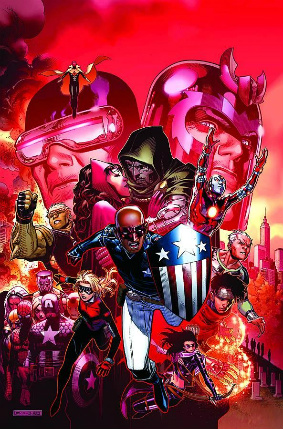 Unfortunately, the last issue (and really the last half of the final issue) is where things finally calm down enough to get good. By simply being clear and reintroducing the elements that made this series so popular to begin with, Heinberg has brought back the feelings I wish I had throughout. After pretty much the entire cast of Marvel Comics, including most of the Avengers and what seemed like every mutant this side of Utopia, leave, we are left with the original characters to attempt to make sense of what has happened. With the smaller cast, Heinberg can focus on the characters that matter and dampen the action to allow for some actual dialogue work. While the emotional impact of two Young Avengers deaths is somewhat lessened because of the pace, we at least get to see these moments. Before, they would have flown by in between laser beams and shiny magic residue. Unfortunately, Heinberg can't fully escape the wreckage. The first half of the issue is devoted to explaining the "everything was a lie" conclusion. Turns out Marvel Comics wasn't going to let M-Day, the day that saw the near-extinction of the mutants, be reversed. The story overall doesn't have any impact at all, not that I was really expecting as much, and my major complaint is the explanation of the ending detracts from the series' strengths by explaining its faults. Overall, the series ends on a high note, but I am in no way quick to reread ten issues of bloated convolution. Hopefully, if Heinberg ever comes back to these characters, he learns from the mistakes he made here.
Throughout it all, though, the series has at least looked great thanks to Jim Cheung. His classic style, helped by Cory Petit's lettering, has always been crisp and clear. Juston Ponsor's bright palette should look familiar to Ultimate Spider-Man fans and works just as well here. Every panel has wonderful detail and Cheung handles the emotive issue with ease. Never melodramatic and always communicative, Cheung's art is almost the counterpoint Heinberg's scripting. Overall, the series has been disappointing but Cheung has nothing to do this feeling.
Grade: B+ On the way up just as things end.
Last Updated: Jun 26, 2018 - 9:28