Artifice – A Straight-Friendly Gay Comic
By Hervé St-Louis
March 27, 2012 - 08:41
Artifice is the story of Deacon an artificial human – an android that malfunctioned on a mission to stop a colony of space secessionists and saved the life of one teenage boy against the wishes of his handlers. Having killed a lot of soldiers as he was retrieved from the colony, he undergoes an interrogation by Doctor Maven, a sharp and ruthless woman trying to understand what happened to Deacon and why he saved Jeff, the human boy. Artifice is a Web comic that is in the process of being compiled into an 87 page graphic novel for print. The project's creators raised money through KickStarter, the crowd-funding platform that allows people to support comic book creators and other projects.
Alex Woolfson, the writer and owner of Artifice wanted to create a comic book that would please both gay and straight fans by creating a science fiction thriller based on an intense relationship between two different beings and the institutions between them. Deacon's first order is to be a good soldier and in total support of the organization that created him. Yet his curiosity towards Jeff leads him to commit several errors in judgments and to compromise his mission and his directives continually.
Jeff on the other hand was rejected by the puritanical colony where he lived because of his homosexual genes. They did not care about whether he lived or died so as the last survivor of his colony he doesn't know whom to trust and whether Deacon's slow but steady courtship will win him over. The story is remarkably conservative when it comes to sexual imagery although it plays with gay themes continually. What is most interesting is how Deacon's psychiatrist slowly unravels the truth behind Deacon's deception and love for Jeff. Deacon is a synthetic human that was created to have a full range of emotions, and uses them in his relationship with Jeff.
Some details about Deacon's motivations were left out although digging his mind is what most of this comic book does. It's established in the story that homosexuals have a variant gene that guides their sexual orientation. Deacon appears to be one of several similar clones. Did his genetic code also include the homosexual genes or did he just rise over it defeating nature in favour of nurture? Woolfson doesn't explore this debate at all and does not answer the question he raised subtly by saying that homosexuality was completely determined by genetics. Unless he intends to explore that question in a sequel, this will remain a logic flaw in the scenario and something that if he had explored would have brought his comic book to another level. Right now, Artifice, while potentially entertaining for both gay and straight readers, fails to go above the typical love scenario that appears in other similar pop romances.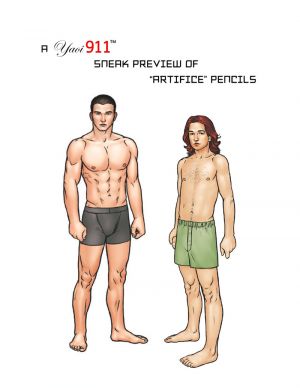 Winona Nelson handles the artwork and I believe her work is what makes Artifice such a good comic book. Her style is similar to Kevin Maguire with the same attention to facial expressions the old comic book pro is known for. The backgrounds are not too detailed but functional. We do get a sense of the space the characters dwell in. Her actions scenes are good. For gay fans, the story hints mostly at gay sex but does not cross the line. What Nelson is good at is building up tension and allowing readers to imagine the details. The pacing of this comic book is slow. Some may find that its padded. Yet without Nelson's careful and very realistic depictions of humans, the comic book probably would not be as successful.
Woolfson intends to publish this comic book for print through his company Yaoi911. However the entire Web comic can be read online at
yaoi911.com
Rating: 8.5 /10
Image Gallery:

Last Updated: January 24, 2022 - 11:00