The Young Protectors – Writing Gay Super heroes for a Mass Audience
By Hervé St-Louis
October 26, 2013 - 15:10
While gay super hero characters have been embraced by larger comic book publishers, the most innovative work in that area continues to be done by smaller publishers and individual creators spearheading projects through the use of Web comics and funding them through crowdfunding platforms like Kickstarter. Alex Woolfson's
The Young Protectors
is a model case of this new breed of comics that speak to a broader audience.
The Young Protectors is the latest series started by Woolfson who's better known as the creator of the science fiction gay Web comic Artifice. But whereas
Artifice
hinted at a relationship between two male characters by introducing an element of conflict where one character seemed to betray and hold the life of the other in his grasp, The Young Protector started more as a typical yaoi romance comic where two characters met and a clear relationship and tension was obvious from the get go. In The Young Protectors, Kyle, also known as Red Hot, is a young super hero with fire powers who meets Duncan the Annihilator, a major villain. The villain quickly makes sexual advances on the younger hero. Much of the early stories focus on the forbidden relationship between a super hero in training and a professional major villain. But one day, on a special date, Annihilator betrays Red Hot and uses him as a pawn to crosses into a hellish dimension where the villain attempts to make a deal with a devilish creature called Laampros.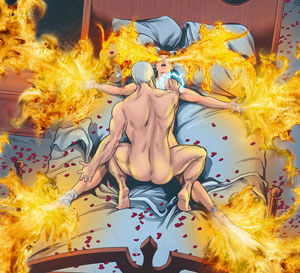 The first few chapters didn't really move much in terms of storytelling by only focusing on the romance between the two characters, which in my opinion was Woolfson's way of placating his readers by giving them what they sought. The conflict and betrayal raised with Laampros have actually created more tension in the story and made it more a tale that borrows from the super hero genre and will speak to more readers. I know I will be criticized for writing this, but much of the early parts of The Young Protectors felt like soft porn rather than a story implicating two protagonists on opposite ends trying to find commonalities. The villain's intentions were so tamed that at one point, his villainy almost didn't matter and readers were already imagining happy endings where the two would live together forever in the suburbs with a white picket fence in their front yard. With the involvement of the demon in the story, Kyle can be a super hero again and Duncan can be a villain again. Now the tension between the two characters becomes interesting and worth following for all super hero fans.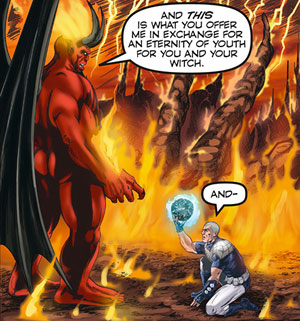 In Artifice, as in The Young Protectors, Woolfson attempts to avoid falling into the soft porn that many yaoi and gay comics often fall into. In The Young Protectors, he hasn't completely succeeded although his introduction of a second antagonist helps the story and save it from being another typical gay comics. Publishers such as Archie Comics, Marvel and DC Comics usually avoid any sexual tension from existing in their stories with gay characters and focus only on the couple aspects of the relationships. It's a fine line that even Woolfson has not been able to walk. However, the Web comic format is more forgiving of such stories as readers are only fed bits of stories at a time. It is only by reading whole sequences that one sees flaws in the storytelling.
The artwork is by Adam DeKraker who is an ideal super hero comics illustrator. His work is as competent in intimate scenes as it is in fights. While I don't like how he draws the face of the Annihilator, I like the other characters' designs. The Annihilator feels like Deathstroke the Terminator while Red Hot seems like an amalgam of several teenaged super heroes such as KidFlash and Marvel Boy. The colouring by Veronica Gandini has greatly enhanced the series. New pages of The Young Protectors are published every Wednesday and Saturday at Yaoi911.com
Rating: 8.5 /10
Image Gallery:

Last Updated: January 24, 2022 - 11:00