Comics / Comic Reviews / DC Comics
Aquaman #26
By Hervé St-Louis
Jul 25, 2017 - 10:16
Aquaman's presence has been revealed and the King Rath's mutated goons are after Arthur Curry. But Arthur Curry appears to have forgotten his identity. Meanwhile in the Atlantean palace, politics makes for strange bedfellows as Reverend Mother Cetea conspires with the imprisoned Vulko against King Rath. Can they help Aquaman overthrow the illegitimate king of Atlantis?
This comic continues the most interesting Atlantean royal court drama featuring Aquaman since
The Atlantis Chronicles
. Yeah, I've written that! Abnett and Sejic's version of Atlantis is remarkable as it slightly borrows from ideas introduced by Neal Pozner, Peter David, and Kurt Busiek in former runs of Aquaman while being fresh and original. The idea that Atlanteans have mutated to adapt further to their oceanic environment has been explored well but unlike Abnett.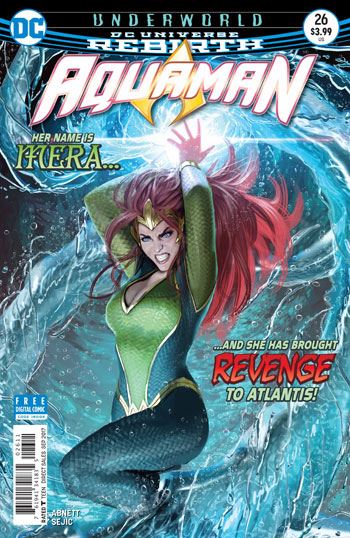 In Posner, whole cities and civilizations had similar physiognomic changes. In David, similar changes mostly to do with the mere-people of Tritonis, were explained as magical adaptations to the ocean, in the form of a curse. In Busiek, and to some extent Erik Larsen, it was individuals who changed physiognomy. What Abnett adds is that the changes are evolutionary but also makes outcasts of various drifters affected by them. Effectively, Abnett extends the pure blood story about Aquaman being a half-breed to other Altanteans who unlike him are not air-breathers but similarly are shun by their society. Abnett is playing the X-Men's mutant card here and it's savoury because it is always effective in such stories.
Having mutated characters ads variety to the cast and adds more drama to the court politics that Abnett has been playing with since Rebirth. Abnett's run appears to be low-key and humble but he is adding a lot of pathos and history to Aquaman. His take on Aquaman starts from where Geoff Johns started but twists back into the open ocean. Johns returned Aquaman to the dual sea and surface world which characterized the classic Aquaman. Peter David moved away from this and make Aquaman and his world creatures of the oceans. Abnett is playing in the middle and adding some balance. He makes the half-breed Aquaman interesting as a possible drifter. He is a type of mutant that was never fully accepted as king of Atlantis.
Sejic provides the most vivid and original take on Aquaman since Esteban Maroto who was David's colleague on the Atlantis Chronicles. His Aquaman and Atlantis are not sci-fi based. They are vivid with colours even deep undersea but there is a feeling that the characters are underwater. Sejic knows how to draw water and textures that resemble scales and other see critters. It's all fun here.
Rating: 9.5 /10
Support this writer on Patreon
Last Updated: Jun 26, 2018 - 9:28