Comics / Comic Reviews / DC Comics
Aquaman #24
By Hervé St-Louis
Jun 10, 2017 - 14:06
Aquaman's fate as king of Atlantis has been decided against his favour. He must leave the underwater continent or be killed. Corum, the new king wants Aquaman dead. But as Arthur Curry decides to contest Atlantis's elders' decisions, is he asking for more trouble and possible death?
Dan Abnett has been building a lot of tension between Mera and Aquaman where she serves as his conscience and reminder that there is more to them then Atlantis. This episode serves as a transition into the new direction Aquaman will take next issue but fortunately, it will be with the same writer. Even though things look radically different, we can trust that Abnett will continue to stir these characters well.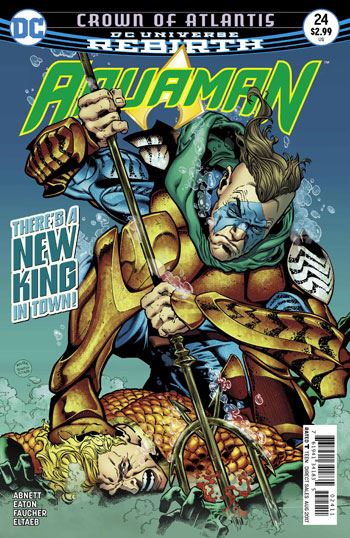 This issue was good because it explored Arthur Curry's stubbornness and why Mera loves him besides this flaw. It is this quality that makes him such a primal hero the likes of which we don't see often anymore. While a complex character, Abnett's Aquaman is black and white in his determination to do good and help people. There is not an inch of evil within him. It is difficult to write such characters today. In the past Aquaman was often portrayed as an anti-hero, an outsider to the surface world, or just a pretentious badass. I like that Abnett has brough back the nobility of the character without much of the angst and grey tones making us wonder if we are reading the adventures of Namor the Submariner or Aquaman. It took me a while to realize that this is what Abnett was going for in his take on Aquaman. It is very much the story of a hero trying to bridge land and sea.
Pencillers Scot Eaton and Philippe Briones deliver a good farewell to the series they've been drawing since 2016 but I have to mention the funny error that they tried to correct in the sequence during Arthur's trial. There is a blonde woman watching the trial closely. She wears what seems like a crown similar to Mera's. But Mera was established as having left the city pages earlier. I bet that editor Andy Khouri had the inkers remove the scales from the woman's costume and give her blonde hair instead! This woman was so prominently portrayed that at one point I even wondered if she was Aquaman's mother, Atlanna! Similarly, there is another woman coloured differently who looks like Tuula, Atlantis's regent.
Rating: 9.5 /10
Support this writer on Patreon
Last Updated: Jun 26, 2018 - 9:28