Yamato Presents "Dog Bonnie"
By The Editor
April 17, 2008 - 04:33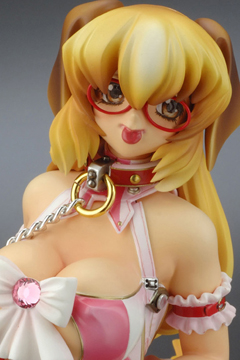 Dog Bonnie
TANDEM TWIN Animal Girls: Dog Bonnie
From the weird and wonderful world of Tandem Twin, Yamato presents master sculptor Kouichi Yamazaki (Tandem Twin)'s latest incarnation: Dog Bonnie. Inspired by the Golden Retriever, the submissive Bonnie is the perfect companion to Tandem Twin's dominant Dog Alma (previously released) or twin Dog Annerose. Kneeling at approximately 7.00", Bonnie includes chain to create themed display with Alma/Annerose, display base and a host of accessories: two interchangeable heads, two interchangeable chest parts, eyeglasses, and mask.
Shipping August / September 2008, Yamato USA and its distribution partners AAA Anime, Diamond Comics, BBCW, Grosnor Distribution, and Yes Anime are now accepting preorders for TANDEM TWIN Animal Girls: Dog Bonnie. For more information, please visit Yamato USA's website at www.YamatoToysUSA.com.
Note: For mature collectors only. Dog Alma sold out. Check with your local retailer for availability. Dog Annerose is available through Yamato USA's online shop at www.YamatoToysUSA.com for the special price of $60 (regularly $72) through April 2008. Quantities are limited to 300 pieces and ship May 2008.
Last Updated: April 9, 2021 - 22:22